February 01, 2010
Loretta Lawrence Keane, Vice President for Advancement and External Relations
Cheri Fein, Executive Director of Public and Media Relations, 212 217.4700 or press@fitnyc.edu
FIT TEAM SELECTED FOR GLOBAL STUDENT COMPETITION
AT 2010 WORLD RETAIL CONGRESS
Team Will Compete in the Congress's Retail Futures Challenge in Berlin
A team of four students from the Fashion Institute of Technology (FIT) in New York will represent the United States, vying against student teams from six other colleges from around the globe, in a retail competition at the 2010 World Retail Congress (WRC). The WRC, a global executive retail conference, will take place in Berlin from April 21- April 23. As part of the congress, the WRC will bring together students from leading colleges, universities, and management schools to compete in the second annual Retail Futures Challenge, to be held on April 22.
FIT Fashion Merchandising Management majors Melanie Guardino, Ashly Juskus, and Kimberly Karseboom, and Advertising and Marketing Communications major Samuel Bauer will compete against teams from the Fashion Retail Academy, London; Hong Kong Polytechnic University, Hong Kong; Rikkyo University, Tokyo; Royal Melbourne Institute of Technology, Melbourne; University Institute for Modern Languages, Milan; and the Welingkar Institute of Management, Mumbai.
The initial phase of the competition, which was open to students in FIT's Jay and Patty Baker School of Business and Technology, charged entrants to design a store that best evokes New York City. Guardino, Juskus, Karseboom, and Bauer envisioned Transit, a store located in Manhattan's AOL Time Warner Building that allows consumers to invent themselves.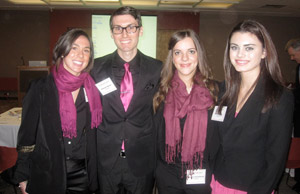 FIT's winning team.
From left: Melanie Guardino, Samuel Bauer, Kimberly Karseboom, Ashly Juskus
Team Transit was selected during a special CEO breakfast by judges Joseph R. Gromek, president, CEO, and director, Warnaco Group; Gilbert W. Harrison, chairman and CEO, Financo, Inc.; Abbey Doneger, president, The Doneger Group; Laura Pomerantz, principal, PBS Real Estate; Betsy McLaughlin, CEO, Hot Topic; and John Maxwell, partner at PricewaterhouseCoopers. Fifty senior executives from the retail and apparel industry also attended the breakfast, which was held at FIT on January 12. The event was sponsored by PricewaterhouseCoopers and Karabus Management, with the WRC represented by Ian McGarrigle, Congress director at World Retail Congress.
Each of the seven competing international teams will now develop a retail strategy for a famous and well-established brand synonymous with Germany, as the brand moves towards creating a lifestyle store. The students will interpret the brand essence, identify a core customer base, develop a story concept that includes an online site, and outline how the store would be marketed and deliver profitable revenue streams. The teams will present their concepts at the WRC to an audience of global industry leaders.
The Warnaco Group is sponsoring the FIT team by providing travel expenses to Berlin for the four students and faculty escort Robin Sackin, acting dean of FIT's Jay and Patty Baker School of Business and Technology.
Additionally, FIT will be represented at the Congress for the second consecutive year by WFIT, the colleges student-run broadcasting club. The World Retail Congress has commissioned WFIT to cover the events in Berlin and create videos to be posted on the WRC website. The WRC will cover hotel costs and FIT will cover airfare and expenses.
About The World Retail Congress Created in direct response to the demands of retailers, and supported by major international players including Tesco, Carrefour, Ikea, Alshaya, and Best Buy, the World Retail Congress will once again bring together the worlds retail leaders for high-level debate with international policy makers. The aim is to drive growth in the global retail economy, promote the benefits of global retail excellence, and gain a sustainable, competitive edge in domestic and international markets. With thousands of key retail professionals and politicians expected to attend, the focus will be on discussing and influencing the issues for change. Further details are available online at www.worldretailcongress.com or by emailing info@worldretailcongress.com.
About FIT The Jay and Patty Baker School of Business and Technology at the Fashion Institute of Technology offers degree programs that prepare students for business careers related to the fashion industries. Among the schools majors are Advertising and Marketing Communications, Cosmetics and Fragrance Marketing, Direct and Interactive Marketing, Fashion Merchandising Management, Home Products Development, International Trade and Marketing, Technical Design, Production Management: Fashion and Related Industries, and Textile Development and Marketing.
FIT, a leader in career-oriented education, is a selective college of art and design, business and technology of the State University of New York (SUNY), with 44 majors leading to the AAS, BFA, BS, MA, and MPS degrees. The college serves more than 10,000 students annually and offers courses in a wide range of fields.