April 27, 2010
Loretta Lawrence Keane, Vice President for Advancement and External Relations
Cheri Fein, Executive Director of Public and Media Relations, 212 217.4700 or press@fitnyc.edu
THE FUTURE OF FASHION
Tomorrows Top Designers Display Their Talent on the Runway
While Tomorrows Technology Is Unveiled
at New York's First 3D Simulcast of a Fashion Show
The Future of Fashion was revealed last night when the Fashion Institute of Technology's top graduating design students showcased 101 fashion-forward garments at FIT's annual end-of-year runway show. This professionally produced event presented sportswear, special occasion, knitwear, intimate apparel, menswear, and children's wear designed for fall 2010 to packed audiences of established designers, industry executives, and proud families at two showings 4:30 pm and 7:30 pm -- in the Great Hall at FIT, with a VIP reception held between the two shows. An overflow crowd viewed the shows in 3D stereoscopic simulcast in FIT's Haft Auditorium. For those not able to attend in person, the 7:30 pm show was streamed live to the web.
The fully immersive, stereoscopic 3D simulcast was the first such production of a New York runway show and the second time any runway show has been presented in 3D. (Burberry Prorsums fall 2010 collection, shown in the U.K., was the first.) The event furthers FIT's leading position as the link between creativity and technology, and places the college at the forefront of technology as it relates to fashion and business. The 3D stereoscopic production was by UVPHACTORY's Dimitris Athos.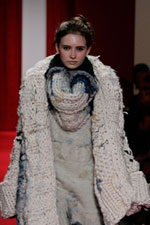 Each year, noted designers act as mentors and critics to the students. These designers visit classrooms throughout the spring semester to critique the students work and, ultimately, to select the most exceptional garment from each area of specialization for a special award. This years critics included Calvin Klein and Carolina Herrera, who were among those presenting awards to the students at the VIP reception. Winners are listed at the end of this release.
The young designers also vied for cash awards from Cotton Incorporated, the lead sponsor of the fashion show. Students who used cotton in 95 percent of their garments were eligible to win $2,000 in each of five categories: sportswear, knitwear, intimate apparel, special occasion, and children's wear. Winners are listed at the end of this release.
Inclusion in The Future of Fashion runway show is selective, with garments chosen by a panel of judges that this year included Kate Betts, contributing editor of Time Inc., and Lisa Smilor, associate executive director of the Council of Fashion Designers of America (CFDA).
Renowned hairstylist Laurent Dufourg provided stylists and products for the models. Janice Kinjo of Epiphany was lead makeup artist, with Smashbox Cosmetics sponsoring Kinjo and her team of artists. Dufourg and makeup artist Sue Devitt were among those who contributed products for the gift bags.
The theme of the VIP reception, held between the two shows and sponsored by Guitar Aficionado magazine, was the dynamic between music and fashion. Guitar Aficionado provided five white Epiphone guitars, each of which was decorated by an FIT student and displayed at the reception.
FIT, a college of art and design, business and technology of the State University of New York (SUNY), offers 44 majors leading to the AAS, BFA, BS, MA, and MPS degrees. FIT fashion design alumni include Calvin Klein, Norma Kamali, Francisco Costa Ralph Rucci, Stephen Burrows, Amsale Aberra, John Bartlett, and Nanette Lepore.
* * * * *
THE FUTURE OF FASHION AWARD WINNERS
CRITIC AWARD WINNERS
Margaret Bacon Intimate Apparel
Katelyn Bischof Special Occasion
Diana Donovan Sportswear
Cristina Gutierrez Childrens Wear
Amanda Henderson Knitwear
Katherine Lee Knitwear
Murphy Thiel Menswear
Liudmila Urbina Sportswear
Jessica Velasquez Sportswear
COTTON INCORPORATED WINNERS
Kidan Brooks Special Occasion
Inyoung Ham Knitwear
Keira McCullough Childrens Wear
Jessica Velasquez Sportswear
Nicole Wilson Intimate Apparel