October 07, 2009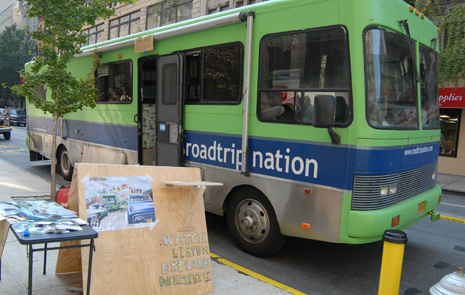 The infamous green RV representing Roadtrip nation will be visiting FIT on Wednesday, October 7, 2009, to kick off their annual national college tour. This popular grassroots movement and PBS series now spans two continents, as students search for enlightenment and their own unique roads in life.

RTN began when for college students, unsure about their career paths and what they wanted to do with their lives, hopped on an RV and travelled thousands of miles across the US. Their mission was to interview many individuals from all walks of life, who they found to be inspirational and successful by following their own paths. The philosophy of RTN enables students to empower themselves by not adhering to outside societal pressure and noise; but rather to focus on finding their passion through self discovery and exploration, confidence, inspiration, perseverance, dedication, and hard work.

The RTN movement has evolved into a PBS series, three books, and online community, and a student movement across hundreds of campuses around the globe. The roadies who are hitting the road are interested in exploring the world, talking with individuals who chose to define their own roads in life, and sharing those experiences with this generation.
We are thrilled to have RTN visit our campus once again, states Pam Zuckerman, Career Counselor/Associate Professor, who utilizes the philosophies of RTN in the popular Career Planning class. It is always a wonderful experience to have the roadies talk to our student body about their amazing and unique experiences on the road. Their philosophy empowers our students to view life in a very different way, realizing that by finding your passion in life, anything is possible to achieve.

RTN presentation and screening will be held in the Katie Murphy Amphitheatre, D building, first floor, from 10:00 am to 12:00
All FIT students and faculty welcome!