June 05, 2009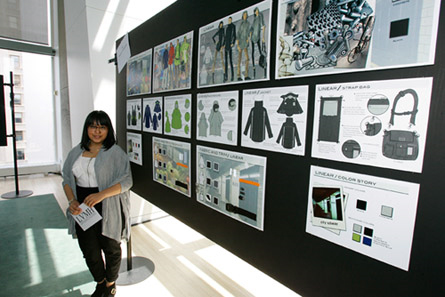 First place award winner Jessica Velasquez and her winning designs.
Three FIT fashion design students were named winners in the Bike in Style Challenge by LVMH Mot Hennessy Louis Vuitton, the worlds leading luxury goods company, at an awards ceremony held on June 2 at the LVMH Magic Tower in New York City.
The challenge charged FIT students to design two sets of unisex biking essentials -- ponchos, jackets, and travel bags -- specifically for urban bike riders. The Mayor's Office and New York City Department of Transportation collaborated with LVMH on the judging and announcement of the winners.
First place was awarded to Jessica Velasquez, who received $5,000 for her designs. Second place winner Jane Carlton received $3,000. Third place and $2,000 went to Stephanie Murphy. Prototypes of three of Jessica Velasquez's designs will be unveiled at Summer Streets 2009.