August 03, 2009
Loretta Lawrence Keane, Vice President for Advancement and External Relations
Cheri Fein, Executive Director of Public and Media Relations 212 217.4700
LVMH Moet Hennessy Louis Vuitton unveiled the prototypes of the bikewear and accessories designed by FIT student Jessica Vasquez, winner of the Bike in Style Challenge, at a press conference held by New York City's Department of Transportation (DOT) August 3 in New York City. LVMH, the Mayor's Fund to Advance New York City, DOT, and FIT, created the Challenge in which student designers from FIT created stylish, practical, and affordable bike gear. The DKNY division of LVMH-owned Donna Karan International mentored the FIT students and developed the prototypes of the winning designs.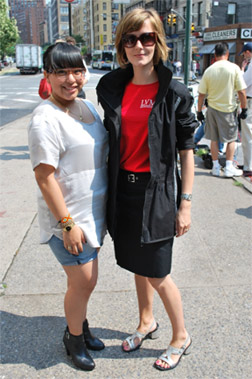 Jessica Vasquez with her winning jacket,
worn by Heather Norton of LVMH.
Vasquez displayed her Bike in Style jacket, poncho, and bag at the event, a pre-launch for NYC's Summer Streets 2009. Debuted last year, Summer Streets closes a 6.9-mile route from the Brooklyn Bridge to Central Park to cars so people can take part in outdoor activities there on three Saturday mornings, August 8, 15, and 22.