April 14, 2009
Loretta Lawrence Keane, VP for Communications and External Relations
Cheri Fein, Executive Director of Public and Media Relations 212 217.4718
White House Loans Dress and Coat Designed by Isabel Toledo for Exhibition of the Designer's Work; On Public View for the First Time, June 17-September 26, 2009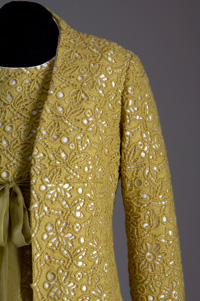 The Museum at the Fashion Institute of Technology (FIT) will display the ensemble designed by Isabel Toledo and worn by First Lady Michelle Obama on Inauguration Day in its upcoming mid-career retrospective of the designer's work. This will be the first time that the sheath dress and matching coat are on public view. Isabel Toledo: Fashion from the Inside Out opens on June 17 and runs through September 26, 2009. The exhibition also will include approximately 70 iconic looks by Isabel Toledo from the mid-1980s to the present, along with mannequins and drawings by her husband, artist Ruben Toledo, with whom she closely collaborates.
First Lady Michelle Obama said, ''I absolutely adored my Inauguration Day ensemble designed by Isabel Toledo, and I am happy it will be part of the exhibit so that others can appreciate the creativity and craftsmanship of one of America's great female designers."
"Isabel Toledo has long been admired by fashion insiders but unknown to the public at large," said Valerie Steele, director and chief curator of The Museum at FIT. "When Michelle Obama wore Isabel Toledo's beautiful golden ensemble for the Inauguration, suddenly everyone in the world saw what this great designer can do. We are absolutely delighted that Mrs. Obama has agreed to lend this now-historic ensemble to the museums forthcoming exhibition, Isabel Toledo: Fashion from the Inside Out."
Although Toledo knew that the dress and coat she designed specifically for Mrs. Obama was a possible choice, the ensemble the soon-to-be First Lady would select was a well-kept secret until Mrs. Obama stepped outside on the morning of Inauguration Day. The fact that she chose a non-celebrity designer and a dress and coat ensemble in an unusual color is a departure from the practice more typically followed by former First Ladies. Historically, suits and coats in primary colors such as red or blue have been the choice.
Toledo calls the color of Obama's outfit "lemon grass" because "its not yellow and its not green." Toledo has a preference for "non-color" colors and textiles that can take on changing tones. "The idea that the coat and dress are gold to some, pale yellow to others gives much more depth to that moment when you happen to catch sight of it," she said. "It provides the wearer and the viewer with an individualized experience."
Described as a "designer's designer" and a "cult figure in fashion," Toledo is called an "incredible talent," by FIT graduate Francisco Costa, creative director of Calvin Klein Collection. Fellow designer Narciso Rodriguez praises the "unique beauty" of her creations, adding that "she is, by far, the designer I admire most today." Other admirers include André Leon Talley of Vogue and Glenda Bailey of Harper's Bazaar. Toledo is the recipient of numerous honors, including FIT's Couture Council Award for Artistry of Fashion in 2008.
Isabel Toledo: Fashion from the Inside Out is organized by Dr. Valerie Steele, director and chief curator of The Museum at FIT, and Patricia Mears, deputy director of the museum. They will also co-author the accompanying book, to be published by Yale University Press. Support for the exhibition has been provided by the Couture Council of the Museum at FIT, with additional support from Nordstrom.
The Museum at FIT is the only museum in New York City dedicated solely to the art of fashion. Best known for its innovative and award-winning exhibitions, which have been described by Roberta Smith in The New York Times as "ravishing," the museum has a collection of more than 50,000 garments and accessories dating from the 18th century to the present. It is located on the southwest corner of Seventh Avenue at 27th Street. Exhibition hours are Tuesday through Friday, noon to 8 pm; Saturday 10 am to 5pm; closed Sundays, Mondays, and legal holidays. Admission is free. Visit www.fitnyc.edu/museum.
The Museum is part of the Fashion Institute of Technology (FIT), a college of art and design, business and technology, that educates more than 10,000 students annually. FIT is part of the State University of New York (SUNY) and offers more than 44 majors leading to the AAS, BFA, BS, MA, and MPS degrees. Visit www.fitnyc.edu.