April 03, 2009
Loretta Lawrence Keane, VP for Advancement and External Relations
Cheri Fein, Executive Director of Media Relations (212) 217-4718
FIT Takes Top Spots For Second Consecutive Year
Two Jewelry Design students from the Fashion Institute of Technology (FIT) have won first and second place in the Vision Awards competition sponsored by Manufacturing Jewelers and Suppliers of America (MJSA). This is the second consecutive year that FIT has taken top spots in the competition. Winners were announced at MJSA Expo New York.
Ahleum Chun, who won the first prize of $250, and Hyangmi Kim who won the second prize of $100, were selected from a field of 83 students from the U.S. and Europe. In 2008, FIT student Yumiko Kakiuchi, who has since graduated, won first prize for her design of a bracelet.
Ahleum Chun's winning ring.
Photo by Chun

Hyangmi Kim took second place
for this bracelet. Photo by Kim
The student category is open to any student enrolled in an art, design, or jewelry-related program at a college, university, or proprietary technical school. All designs submitted must be new, original, not available for sale, and cannot have won any previous competitions.
Chun won first place for a ring with four interchangeable tops. Her unusual designs for the ring's tops are based on interpretations of a bird, blossoms, a pond and rain, and waves meeting pebbles. Materials used were brass, copper, coral, crystal, gold plated wire, pearl, resin, shakudo, and silver.
Kim took second place for a necklace made of aluminum, wire, steel, nickel brass, and nickel. "My designs use the motif of nature," she said. "I was inspired by raindrops in creating this necklace. While walking during a rain shower, it looked like the raindrops were dancing gracefully in the city. I tried to capture this idea and feeling."
Both women are fourth-semester students who will receive an Associate in Applied Science degree in Jewelry Design from FIT at commencement on May 19.
"They beat students with more experience and training from bachelor's and master's degree jewelry design programs at leading international colleges," said Michael Coan, chair of FIT's Jewelry Design Department.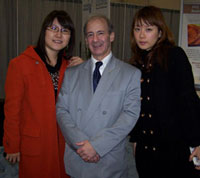 From left: Kim; Michael Coan, chair of FIT's
Jewelry Design Department; and Chun.
Photo by Louly Vorasane/MJSA
Both winners were born, raised, and educated in Seoul, South Korea. A passion for jewelry design brought them to New York and FIT.
FIT offers one and two-year programs in Jewelry Design leading to an AAS degree. "We teach the skills and techniques of jewelry design in the classic tradition, for both the industry and craftspeople," Professor Coan said. Graduates work as designers, jewelers, and executives for such companies as Tiffany and Company and Harry Winston, and as assistants to such top designers as David Yurman and Judith Ripka.
FIT, a leader in professional career-oriented education, is a selective college of art and design, business and technology of the State University of New York (SUNY), with 44 majors leading to the AAS, BFA, BS, MA, and MPS degrees. The college serves more than 10,000 students and offers courses in a wide range of fields, among them jewelry design, fashion design, advertising and marketing communications, toy design, home products development, and fashion merchandising management. Visit www.fitnyc.edu.