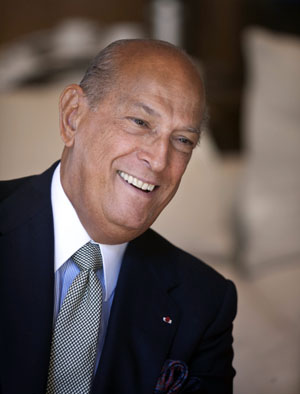 Oscar de la Renta
"I have been at it for 50 years and I am still learning. What is exciting for me ... is being in my studio ... being challenged ... and learning my craft ... and I thank FIT for guiding young people to learn their craft because that is the only way they truly will make a mark."


Oscar de la Renta, 1932-2014
The Couture Council of The Museum at the Fashion Institute of Technology (FIT) honored Oscar de la Renta with its 2012 Couture Council Award for Artistry of Fashion on Wednesday September 5, 2012 at a benefit luncheon at the David H. Koch Theater, Lincoln Center, New York City. As has become the tradition, this luncheon heralds the arrival of Fall Fashion Week and this year it was generously underwritten by American Express.
Dr. Joyce F. Brown, president of FIT, said, We are so pleased to honor this great American designer, who, through his timeless and elegant designs, is a legend to all those who love fashion. Oscar de la Renta is an inspiration, not only to students of fashion, including FIT's talented students, but to his fellow designers as well.
Dr. Valerie Steele, director of The Museum at FIT, announced, Oscar de la Renta is a true fashion superstar who has long served as one of the greatest ambassadors of American style. His clothes, which draw on the heritage of Spain and the French haute couture, as well as on the dynamism of contemporary New York high fashion, convey a sense of luxury and drama that have earned him acclaim throughout the world.
I am honored to receive this award from the Couture Council of The Museum at FIT, said Mr. de la Renta. It is an extraordinary acknowledgement celebrating artistry in fashion, a craft that defines my work as a designer and drives our industry as a whole. FIT is an institution dedicated to the future of fashion. I greatly admire their work and am happy to be a part their efforts.
The Luncheon Chairs included Eleanora Kennedy, and Alexandra Lebenthal. The Honorary Luncheon Chair was Annette de la Renta.
Born in the Dominican Republic, Oscar de la Renta left at the age of eighteen to study painting at the Academy of San Fernando in Madrid. While living in Spain, he became interested in design and began sketching for leading Spanish fashion houses, which led to an apprenticeship with Spains renowned couturier, Cristbal Balenciaga. Later, he left Spain to join Antonio Castillo as a couture assistant at the house of Lanvin in Paris. Mr. de la Renta came to New York in 1963 to design the couture collection for Elizabeth Arden and in 1965 began his signature ready-to-wear label. When he was appointed as designer to the French couture house of Pierre Balmain in 1992, it was the first time that an American had been chosen for such a prestigious position at the heart of the haute couture.
Today, the company also produces a bridal collection, a fragrance line, a home collection, and a complete range of accessories, including handbags, shoes and jewelry. In 2008, Oscar de la Renta opened its first international stores in Athens and Madrid, and has continued its expansion with the opening of Dubai in 2009.
Mr. de la Renta was chosen to receive The Couture Council Artistry of Fashion Award by the Couture Council Advisory Committee, an independent group consisting of curators, editors, and retailers. Members include Pamela Golbin, curator of the Muse de la Mode; Akiko Fukai, director and chief curator of the Kyoto Costume Institute; Caroline Milbank, independent curator and author; Glenda Bailey, editor-in-chief of Harpers Bazaar; Hamish Bowles, European editor-at-large of Vogue; Ken Downing, fashion director of Neiman Marcus; Linda Fargo, senior vice president of Bergdorf Goodman; Nicole Fishcelis, vice president and fashion director at Macy's; and many distinguished others. Valerie Steele serves as chair.
Past recipients of the Couture Council Awards are
Valentino
in 2011,
Karl Lagerfeld
in 2010,
Dries Van Noten
in 2009,
Isabel Toledo
in 2008,
Alber Elbaz
in 2007, and
Ralph Rucci
in 2006. In 2008,
Giorgio Armani
received a special award for Global Fashion Leadership.
The Couture Council, which was created in 2004, has become an integral part of The Museum at FIT. Its Artistry of Fashion Award furthers FIT's deep connection with the fashion industry. Dr. Brown added, We are very grateful to the Couture Council for the important work it does to support the mission of The Museum at FIT.