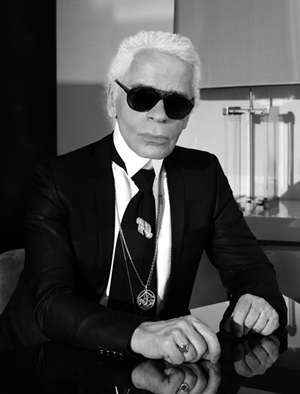 Karl Lagerfeld
The Couture Council of The Museum at the Fashion Institute of Technology (FIT) honored Karl Lagerfeld with a special award on Friday, September 10th at a benefit luncheon at Avery Fisher Hall, New York City. Dr. Valerie Steele, director of The Museum at FIT, announced, "In recognition of his unparalleled role as a creative force in the world of fashion, we have chosen to bestow on Karl Lagerfeld, The Couture Council Fashion Visionary Award. This unique award was created exclusively for Karl Lagerfeld. Since his arrival at Chanel in 1983, Karl Lagerfeld has brought the company to the forefront of innovation and creativity and has continuously maintained Chanel's position as the most coveted fashion label in the world. Not only is Lagerfeld an inimitable designer, he is also an acclaimed photographer, publisher, renowned collector, and a true connoisseur."
Karl Lagerfeld was chosen to receive The Couture Council Fashion Visionary Award by the Couture Council Advisory Committee, an independent group consisting of curators, editors, and retailers. Members include Pamela Golbin, curator of the Muse de la Mode; Akiko Fukai, director and chief curator of the Kyoto Costume Institute; Glenda Bailey, editor-in-chief of Harpers Bazaar; Hamish Bowles, European editor-at-large of Vogue; Ken Downing, fashion director of Neiman Marcus; Linda Fargo, senior vice president of Bergdorf Goodman; and Julie Gilhart, fashion director of Barneys, New York, among others. Dr. Steele chairs the Couture Council Advisory Committee.
FIT president, Dr. Joyce F. Brown, noted, "Karl Lagerfeld epitomizes the highest level of design genius and is a source of tremendous influence and inspiration for our students. His multi-faceted career provides a road map for all who aspire to be unbounded in their artistic endeavors. We are so very pleased to give The Couture Council Fashion Visionary Award to Mr. Lagerfeld."
Elaborating on Karl Lagerfeld, Dr. Steele said, "He is inventive and a multi-faceted creator. For Chanel, he designs the Haute Couture, Ready-to-Wear, Cruise and Metiers D'Art collections, and is the creator and photographer for all fashion ad campaigns. In addition to his work for Chanel, he has his own eponymous line, Karl Lagerfeld, is artistic advisor at Fendi, and over the years has designed for numerous companies, most notably Chlo. His ability to design simultaneously for multiple brands has been a defining characteristic of his career and is typical of his apparently inexhaustible energy and creativity. His work for Chanel is as vital and exciting today as it was when he first arrived, radically modernizing the brands signature vocabulary, introducing new materials such as denim, and reinventing the Chanel codes. No other fashion designer is as prolific with such widespread global influence."
The 2010 Couture Council luncheon chairs included The Honorable Daphne Guinness, Alexandra Lebenthal, Charlotte Moss, Liz Peek, Diana Taylor and Lizzie Tisch (committee still in formation). Dr. Brown welcomed guests, and Simon Doonan, Barneys famously witty creative director, emceed for the second year running.
The Couture Council, which was created in 2004, has become an integral part of the Museum and a recognized authority in the fashion world. Its Artistry of Fashion Award furthers FIT's deep connection with the fashion industry. Dr. Brown added, We are very grateful to the Couture Council for the important work it does to support the mission of The Museum at FIT.
Past recipients of The Couture Council Artistry of Fashion Award are
Dries Van Noten
in 2009,
Isabel Toledo
in 2008 (a prescient choice made before Michelle Obama selected Toledo's design to wear on Inauguration Day),
Alber Elbaz
in 2007, and
Ralph Rucci
in 2006. In 2008,
Giorgio Armani
also received a special award for Global Fashion Leadership.