The Couture Council of The Museum at FIT honored Akris Creative Director
Albert Kriemler
with its 2016 Couture Council Award for Artistry of Fashion on Wednesday, September 7, 2016 at an award luncheon at the David H. Koch Theater at Lincoln Center in New York City.
Learn more
.
#CoutureCouncil
across social media.
About:
The Couture Council is a membership group dedicated to supporting The Museum at FIT, a specialized museum of fashion. The Couture Council helps make it possible for the Museum to mount world-class exhibitions of fashion, to acquire important objects for its permanent collection, and to organize public programs, such as the annual fashion symposium. The Couture Council accomplishes these goals through collecting membership dues and by organizing fundraising events such as the annual Couture Council Awards Luncheon, which presents a chosen designer with the Couture Council Award for Artistry of Fashion.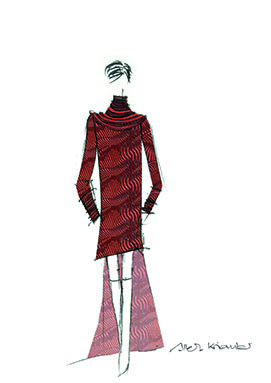 Illustration by: Albert Kriemler
Join the Couture Council:
You can
join or renew online
via our secure website using your credit card,
or if you prefer to pay by check you may
download a membership form
A Couture Council Annual Membership is $1,000 per individual or couple, or $350 for Young Associates (under the age of 35). Membership is tax deductible to the extent provided by law. Please make checks payable to the Educational Foundation for the Fashion Industries. Mail checks to FIT Foundation, attention: Couture Council, Seventh Avenue at 27th Street, Director's Office, Room E304, New York City 10001-5992.
Benefits:
Members of the Couture Council receive invitations to at least five special events a year, including behind-the-scenes tours of the Museum's collection and exhibitions, opening receptions, and visits to the ateliers of fashion designers in New York. Couture Council members are also the first to receive notice of the annual Couture Council Awards Ceremony and benefit luncheon.

In addition, you will receive the following special membership benefits:
Complementary admittance for two to all paid Museum educational programs, including the annual fashion symposium
Acknowledgments in FIT's annual report, in the exhibition galleries and brochures, and on the FIT website
Exclusive opportunities to meet other patrons of the fashion arts

Board of Directors
Chair
Yaz Hernández
President
Kamie Lightburn
Secretary
Carole Divet Harting
Treasurer
Joele Frank


Board Members
Angela Dotson
Anne Goldrach
Rebecca Grafstein
Audrey Gruss
Celia Hegyi
Sharon Jacob
Eleanora Kennedy
Lisa Klein
Michèle Gerber Klein
Stephanie Loeffler
Julie Macklowe
Melissa Mithoff
Elizabeth Musmanno
Laura Nicklas
Amelia Ogunlesi
Liz Peek
Kathy Prounis
Kathy Reilly
Darcy Rigas
Lois Robbins
Jean Shafiroff
Valerie Steele, Director MFIT
Couture Council MEMBERS 2016
Mona Aboelnaga
Tom Ajamie
Anne Baker
Virginia N. Barbato
Jill Bikoff
Noreen Buckfire
Robin Burns-McNeill
Alyson Cafiero
Danielle Augusta Cannon
Lindsay Caprioni
Edward Carlton Clark-Ayers
Chanda Chapin
Suzanne and Robert Chute
Yola Colon
Donna & Mike Corbat
Suzi Cordish
Alston Daigh
Christina R. Davis
Caroline Dean
Marisol Deluna
Destiny Shoes LLC
Nicole Dicocco
Wendy Dietze
Natalie Diggins
Mary Elizabeth Dooner
Gracie Duhajre
Sophie Duprat
Nicole Eades
Karen Eckhoff
Chele Farley
Heather Fisher
Laura Lofaro Freeman
Lori & Eric Friedman
Anne Gallo
Barbara Georgescu
Alexia Ghadamian
Noinin Gilbert
Judith S. Giuliani
Sallie Giordano
Lynn and Carl Goldstein
Victoria Guranowski
Susan Gutfreund
Gerald Haberkom
Andrea Hagan
Nophar Haimovitz
Douglas Hand
Danielle Hankin
Kaelen Haworth
Kate V. Hemphill
Lily Hoagland
Dr. Evelyn Blose Holman
Joan B. Hornig
Sharon Coplan Hurowitz
Carter Jones
Erica Kasel
Mariana Kaufman
Rod Keenan
Liliane Kelly
Gordon Kendall
Karen Klopp
Catherine Kowalski
Katherine Kung
Linda Lambert
Theresa Lawton
Laura Layfer
Jessie Leavitt
Susan Leavitt
Alexandra Lebenthal
George Ledes
Robin Lefcourt
Nicole Leonard
Jill Letts
Sara Lincoln
Christine Mace
Carol Mack
Barbara Malone
Steve Markham
Livia E. Marotta
Dottie Mattison
B. Michael
Charles Miers
Gillian Miniter
Alison Minton
Satoko Miyake
Charlotte Moss
Kamilla Murtazina
Susan Niblo
Laura Nicklas
Dr. Thomas M. Novella
Barbara J. Parsky
Jean Pearson
Susan Pernick
Betsy Perry
Lisa Perry
Karen Phillips
Maria Elena Pombo
John Pomerantz
Rosemary Ponzo
Leticia Presutti
Bambi Putnam
Kerri Quigley
Catherine Sabino
Nancy Sambuco
Rhonda Sheakley
Carron Sherry
Louise Siu
Jessica Stempel
Randall Ian Stempler
Martha Stewart
Kelly Sullivan
Sarah Sulzberger Perpich
Nora Tezano
Rebecca Vanyo
Carol Weisman
Ron West
Stephanie Winston Wolkoff
Sarah Wolfe
Pamala Wright
Yliana Yepez
Highlights from Previous Special Events
Invitation to the annual Couture Council Artistry of Fashion benefit luncheon. Past awardees: Ralph Rucci (2006), Alber Elbaz of Lanvin (2007), Isabel Toledo (2008), Dries Van Noten (2009), Karl Lagerfeld (2010), Valentino (2011), Oscar de la Renta (2012), Michael Kors (2013), Carolina Herrera (2014), and Manolo Blahnik (2015).
Private visits to the ateliers of fashion designers such as Isabel Toledo and her husband, fashion illustrator Ruben Toledo, Ralph Rucci, Zac Posen, Angel Sanchez, Chadwick Bell, Prabal Gurung, J. Mendel, Francisco Costa of Calvin Klein, Reem Acra, Bibhu Mohapatra, Lafayette 148 and NYC Ballet Costume Shop.
Store events with Calvin Klein, Verdura, Tiffany, Reed Krakoff, the FD Gallery, and Mish New York.
Lectures with Michael Kors, Zac Posen and Ruben and Isabel Toledo at the Doubles Club.
Cocktails and Conversation with Peter Copping of Oscar de la Renta at the Core Club.
Cocktails and Conversation with designers Jack McCollough and Lazaro Hernandez of Proenza Schouler and Dr. Valerie Steele, Director, The Museum at FIT at the Proenza Schouler Boutique.
Tea and Conversation with renowned hat designer Patricia Underwood.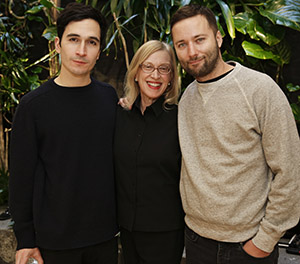 Photo by Brian Ach/Getty Images for The Museum at FIT