December 2, 2014 – April 25, 2015
Online Exhibition
Twitter hashtag #FakingItFashion
Authenticity and copyright protection against knock offs are two of the most debated topics in fashion today. Faking It: Originals, Copies, and Counterfeits investigated the history of both authorized and unauthorized copying, as well as the various factors that have led to gray areas in authenticity.
The exhibition opened with two identical suits from 1966
—
an original by Gabrielle Coco Chanel and a licensed copy
—
alongside a video featuring side-by-side comparisons of the suits.
Faking It
then continued chronologically, beginning with a 1903 purple velvet evening dress by Charles Frederick Worth accompanied by a detail photo of his signed label, which authenticated his creations. However, the demand for his brand created a market for copyists.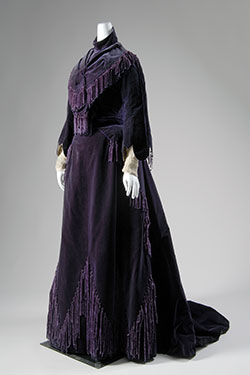 The House of Worth, afternoon dress, Silk velvet, chenille, chiffon, 1903, France, gift of Mary Elizabeth Fogarty, 67.127.1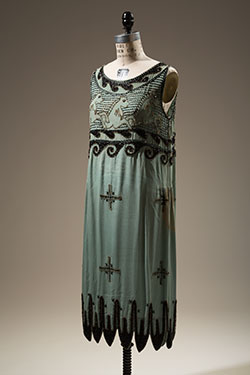 Unlicensed copy of Madeleine Vionnet's Little Horses dress, rayon crepe, black and gold seed beads, c. 1925, USA, gift of Mrs. J. Mirsky, 76.125.1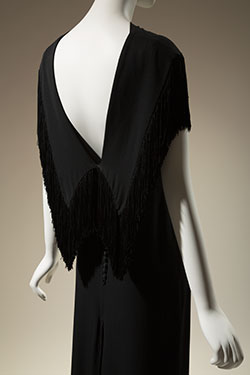 Evening dress registered with the Fashion Originators Guild of America, 1933-1935, rayon crepe, USA, anonymous donor, 2003.102.1
Couturiers such as Madeleine Vionnet implemented various initiatives to stop knock offs of her designs, such as marking her label with her thumbprint in order to authenticate each creation. Unfortunately, this did not entirely discourage copying, as can be seen in an unauthorized reproduction of her Little Horses dress from 1924. Likewise, in an effort to battle unauthorized copying during the 1930s, the Fashion Originators Guild of America registered fashion designers work. An example of a black fringe evening dress with the registered label and sketch was included in Faking It.
From its inception, the Chambre Syndicale de la Haute Couture struggled with maintaining the exclusivity of haute couture, while promoting it through press coverage and licensed copies. When the couture industry began to re-stabilize after World War II, the struggle intensified. The high demand for Christian Dior's famed 1947 collection led to many unauthorized copies of his silhouette. Faking It used a Nettie Rosenstein dress from that same year to illustrate such copying.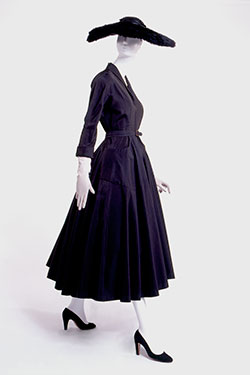 Nettie Rosenstein, dress, silk/wool faille, horsehair, 1947, USA, gift of Janet Chatfield-Taylor, 74.135.8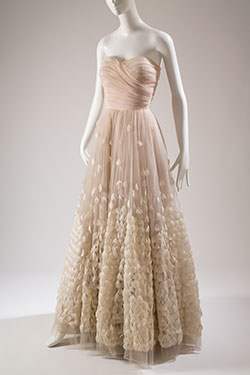 Licensed copy of Pierre Balmain's Angel evening dress, created by Orcilia, tulle, feathers, 1946-1947, Cuba, gift of Molly Milbank, 80.304.1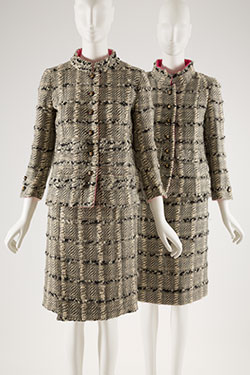 (left) Gabrielle Coco Chanel, day suit, wool boucle, 1966, France, gift of Eleanor K. Graham, 73.82.1
(right) Licensed copy of a Chanel, day suit, wool boucle, c. 1967, USA, Gift of Ruth L. Peskin, 78.179.4
During the 1950s, couturiers relied heavily on department stores that would purchase couture garments for the purpose of producing licensed copies. The exhibition featured more than ten examples of various authorized couture copies from department stores around the world.

Chanel once said, Fashion should slip out of your hands. The very idea of protecting the seasonal arts is childish. One should not bother to protect that which dies the minute it is born. Chanel's tweed suits were so recognizable, she saw copies of her designs as a form of publicity. A selection of six Chanel originals and copies from the 1960s to the 1980s were featured. The 1990s ushered in the era of logo mania and the mass production of counterfeit goods. A special display case in Faking It placed authentic designer bags next to their corresponding counterfeits. Examples included bags from Louis Vuitton, Gucci, Chanel, and the CFDA x eBay anti-counterfeit campaign, You Cant Fake Fashion, along with shoes by Christian Louboutin. A video showcased photos illustrating how to spot a counterfeit.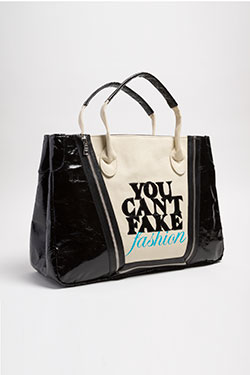 Catherine Malendrino, You Cant Fake Fashion eBay x CFDA anti-counterfeit campaign, tote, 2013, vinyl, cotton, zipper, USA, gift of eBay, 2014.37.1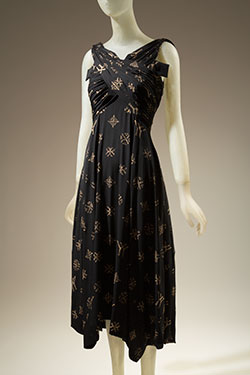 Yohji Yamamoto, dress, fall 2007, silk, Japan, museum purchase, 2007.51.1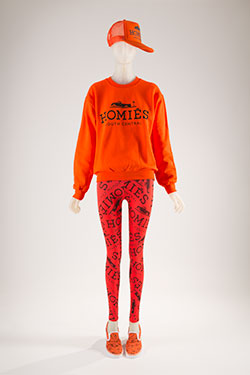 Brian Lichtenberg, Homiés ensemble, 2014, cotton, polyester, rubber, USA, gift of Brian Lichtenberg Studio, 2014.39.1
At his fall 2007 runway show, Yohji Yamamoto debuted a newly created YY logo that was featured prominently on a number of garments and pieces of luggage. The logo was remarkably identical to the familiar Louis Vuitton monogram, and some audience members thought it was referencing Vuitton's origins as a designer of luxury luggage. Was Yamamoto mocking the French brand? Was he making a comment about consumerism? Or was he applauding the power of a venerable luxury brand? No lawsuits resulted from Yohji Yamamoto's new logo, but it did flirt with crossing the line of trademark infringement. More recently, Los Angeles designer Brian Lichtenberg created a witty interpretation of the Hermes logo with his Homies collection (an entire Homies ensemble was featured in Faking It). Fashion lawyers are still debating whether this is a case of trademark infringement or protected speech as legitimate parody.
The exhibition concluded with a video featuring exclusive interviews with select fashion, law, and government insiders providing their views on the current state of protection for fashion designers against copyists and fast fashion knock offs. Faking It: Originals, Copies, and Counterfeits was organized by Ariele Elia, assistant curator at The Museum at FIT.