Fashion & Textile History Gallery
May 26 — November 13, 2010
Online Exhibition
Eco-fashion is one of the most compelling topics in fashion today. Although the roots of eco-consciousness are often linked to the environmentalist movement and hippie styles of the 1960s, fashions environmental and ethical accountability prior to the mid-twentieth century is rarely considered. Eco-Fashion: Going Green explores fashions complex and multi-faceted relationship with the environment, discussing both bad and good ecological practices of the past 250 years.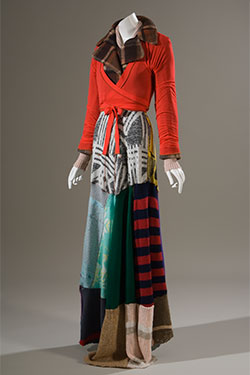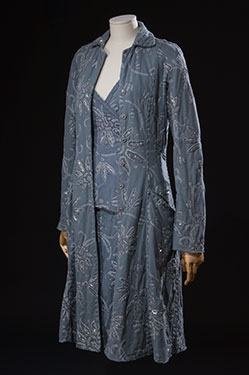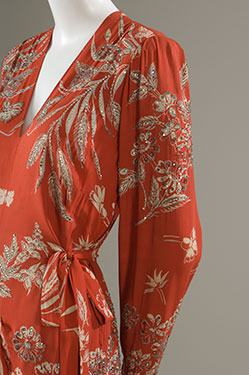 Presented chronologically and featuring more than 100 garments, accessories, and textiles, the exhibition uses contemporary methods for going green as a framework to study the past. Each object on display touches upon one or more of six major themes, including: the re-purposing and recycling of materials, material origins, textile dyeing and production, quality of craftsmanship, labor practices, and the treatment of animals.
re-purposing of textiles is often considered the most responsible mode of eco-fashion. In the nineteenth century, dresses were sometimes reworked to correspond to changing silhouettes, a testament to the lasting value of textiles. Today, numerous designers engage in methods of upcycling, creating fashionable, new garments from worn materials.
Practices associated with growth of natural fibers or the manufacture of synthetics result in some of fashions most environmentally destructive consequences. For example, the cultivation of cotton can be especially damaging, often employing dangerous chemicals and pesticides that belie the fibers natural reputation. As these and other ecological concerns have increasingly come to light, the availability of organic cotton, grown without harmful chemicals, has expanded dramatically.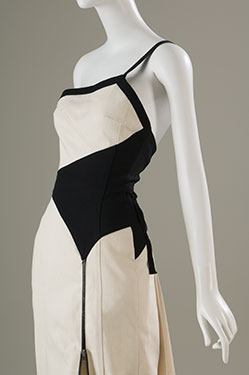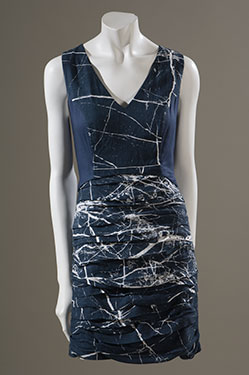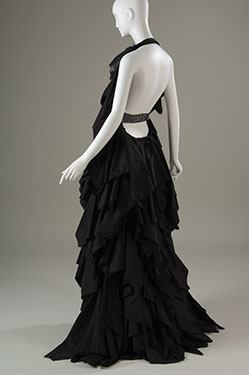 Waste materials from textile dyeing and production have historically resulted in some of the most conspicuous forms of air and water pollution. In the nineteenth century, some dyes contained highly toxic chemicals, such as arsenic. Today, there are a number of sustainable dyeing practices, ranging from technology-based digital and heat transfer printing to the rediscovered art of hand-dyeing.
Quality craftsmanship, convertibility, and uniqueness are sometimes viewed as key to the creation of clothing with lasting value and emotional connectivity, effectively reacting against the fast fashion cycle. While the couture craftsmanship of the past is usually prohibitively expensive today, the offering of luxurious, sustainable goods is the objective of several leading eco-fashion labels.
The health and treatment of industry workers plays a key role in the historical roots of eco-fashion. In the United States, garment workers unions were established to ensure fair labor practices and worker safety. More recently, production outsourcing has raised concern about the treatment of workers overseas. As an alternative, some eco-designers strongly advocate local production initiatives.
The treatment of animals in producing fashion has long been a subject of debate, and the use of fur, feathers, and animal skins in fashion has been viewed as both luxurious and barbarous. As the debate continues, many of today's designers use ethically-sourced furs, while others utilize a variety of cruelty-free alternatives.
Organized by Jennifer Farley and Colleen Hill. Read the press release.