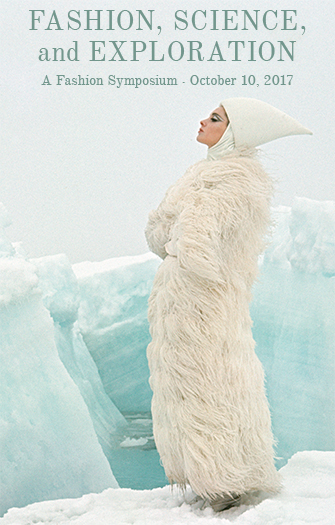 Cover: Photograph by John Cowan, 1964. Copyright The John Cowan Archive.
Tuesday, October 10, 2017
Morris W. and Fannie B. Haft Theater
Marvin Feldman Center, Second Floor

The Museum at FIT presented its eighteenth academic symposium, Fashion, Science, and Exploration. The daylong event explored the impact of scientific thought on fashion in conjunction with two current MFIT exhibitions Expedition: Fashion from the Extreme and Force of Nature. Speakers delved into the influence of thinkers such as Charles Darwin, the history of exploration, the social implications of fur, and how environmental concerns are manifested in fashion and the visual arts.
Among the scholars, curators, and designers scheduled to speak were: Patricia Mears, curator of Expedition; Melissa Marra, curator of Force of Nature; Norma Kamali, fashion designer; Dr. Jonathan Faiers, professor of Fashion Thinking at Winchester School of Art, University of Southampton, U.K.; Lacey Flint, archivist and curator of research collections at The Explorers Club; and Sarah Pickman, PhD candidate in history at Yale University.
Symposium Schedule
Tuesday, October 10, 2017
10 am-1 pm
Dr. Joyce F. Brown, president of FIT
Welcoming remarks
Dr. Valerie Steele, Introduction
Patricia Mears, "Fashion from the Extreme: The Poles, Highest Peaks, and Beyond"
Melissa Marra, "Force of Nature"
Lacey Flint, "The Explorer's Club: A Brief History"
Prof. Christopher Breward, "Survival of the Fittest: Thinking Through Fashion in the Nineteenth Century"
Edwina Ehrman "Fashioned from Nature"
2-5pm
Norma Kamali in conversation with Patricia Mears
Lucy Norris, "Fashion and the Wild Woman"
Elizabeth Way, "Space Age Fashion: Looking Back at the Future"
Ariele Elia, "Ocean Exploration: Fashions from the Deep"
Sarah Pickman, "Polar Exploration and Clothing: Thinking Through Many Layers"
Dr. Jonathan Faiers, "Fur: The Final Frontier"
Speakers are subject to change without notice.
---
The spring 2017 MFIT Fashion Symposium Fashion, Science, and Exploration has been made possible thanks to the generosity of the Couture Council of The Museum at FIT and also through funding by the FIT Student-Faculty Corporation.