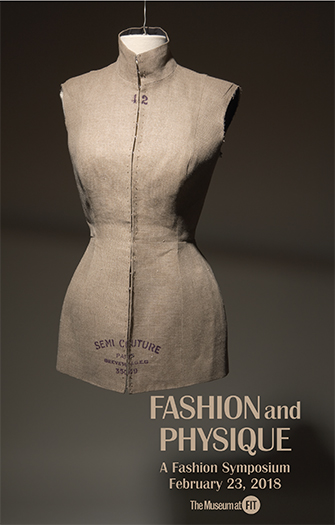 Cover: Martin Margiela, tunic, 1997, Belgium. Photograph © MFIT.
Friday, February 23, 2018
Morris W. and Fannie B. Haft Theater
Marvin Feldman Center, Second Floor

To watch recordings of this event, visit MFIT's YouTube channel and read our Twitter thread for highlights!

Fashion and Physique was the nineteenth fashion symposium to be organized by The Museum at FIT. Lectures and panels included topics such as the emergence of the plus-size fashion industry in the early twentieth century, the impact of popular culture on how we assess the female body, and fashion accessibility for the disabled in the technological age. With this symposium and the exhibition The Body: Fashion and Physique, MFIT hoped to foster a dialogue about how the fashion industry has contributed to the marginalization of certain body types, and to shed new light on the work of designers, models, and activists who challenge what constitutes the "ideal" fashion body.
Speakers included Project Runway co-host Tim Gunn; designers Christian Siriano, and Becca McCharen; author of The Fashioned Body Dr. Joanne Entwistle; co-founder of JAG Models Gary Dakin; founder of The Model Alliance Sara Ziff; and Aimee Mullins, who has transcended her own physical challenges to gain worldwide recognition as an Olympian, a model, and an actor.
Symposium Schedule
Friday, February 23, 2018
10 am-1 pm
Dr. Joyce F. Brown
, president of FIT, Welcoming remarks
Dr. Valerie Steele
, Introduction
Emma McClendon
, "The Body: Fashion and Physique" |
Video
Tim Gunn
in conversation with
Dr. Valerie Steele |
Video
Kim Jenkins
in conversation with
Becca McCharen
and
Christian Siriano
|
Video
Sara Ziff
in conversation with
Lauren Chan
,
Gary Dakin
, and
Iskra Lawrence
on modeling and body diversity |
Video
Dr. Joanne Entwistle
, "New Models of Diversity"
2-5pm
Aimee Mullins
in conversation with
Lucy Jones
and
Grace Jun
on inclusive design |
Video

Lauren Downing Peters
, "Dressing Smart, Looking Slender: Stoutwear and the Discourse of Fitting In, 1915-1931"

Reina Lewis
, "Modest Body Politics: Faith, Fashion, and Ethnicity"

Julia Twigg
, "Dress, Embodiment, and the Performance of Age"

Ben Barry
, "Fabulous Masculinities: Refashioning the Male Body"
Speakers are subject to change without notice.
---
The Body: Fashion and Physique, the spring 2018 MFIT Fashion Symposium, has been made possible thanks to the generosity of the Couture Council of The Museum at FIT and the New York State Council on the Arts with the support of Governor Andrew M. Cuomo and the New York State Legislature. Additional funding has been provided by the FIT Student-Faculty Corporation.