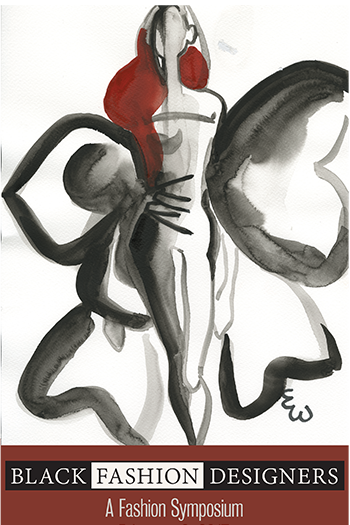 Cover illustration © Edward Wilkerson.
Monday, February 6, 2017 - SOLD OUT
Katie Murphy Amphitheatre
Fred P. Pomerantz Art and Design Center,
First Floor
The Museum at FIT hosted a one-day symposium on February 6, 2017, featuring talks by designers, models, journalists, and scholars on African diasporic culture and fashion. The accompanying exhibition, Black Fashion Designers, examines the significant but often unrecognized, impact that designers of African descent have had on fashion design. Joined by celebrity stylist June Ambrose, reporter Teri Agins, designers Carly Cushnie and Michelle Ochs, and models Bethann Hardison and Veronica Webb, this symposium was an educational exploration of fashion, diversity and more.
Digital recordings of each individual speaker/panel discussions will be uploaded to The Museum at FIT's YouTube channel.
10 am-1 pm
Dr. Joyce F. Brown, president of FIT
Welcoming remarks
Dr. Valerie Steele, introduction
Elizabeth Way, "From Dressmakers to Designers"
Alphonso McClendon, "Fashion and Jazz"
Dr. Monica Miller and Eric Darnell Pritchard, in conversation about Patrick Kelly
Ariele Elia, "From Seventh Avenue to Global Markets"
June Ambrose in conversation with Carly Cushnie and Michelle Ochs
2-5pm
Dr. Valerie Steele, in conversation with Grace Wales Bonner and Mimi Plange
Dr. Victoria Rovine, "Fashion in Africa and Beyond"
Elizabeth Way, in conversation with Teri Agins, Dario Calmese, and Constance White on their careers in fashion media
Elena Romero in conversation with Dapper Dan and Jeriana San Juan on hip hop and fashion
Ariele Elia, in conversation with Bethann Hardison and Veronica Webb about modeling and diversity
Speakers are subject to change without notice.
Black Fashion Designers, the spring 2017 MFIT Fashion Symposium, has been made possible thanks to the generosity of the Couture Council of The Museum at FIT, the President's Diversity Council, and the New York State Council on the Arts with the support of Governor Andrew M. Cuomo and the New York State Legislature.