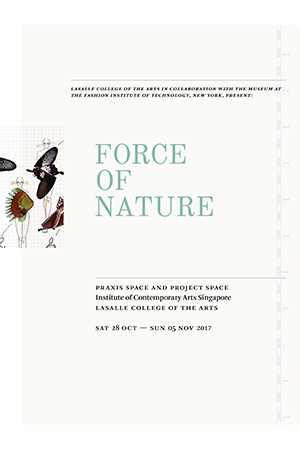 Force of Nature is the fourth Cross-Pollination workshop, organized in conjunction with the MFIT exhibition of the same title (May 30 – November 18, 2017). The show was curated by Melissa Marra-Alvarez, inspired in part by the work of naturalist Alexander von Humboldt (1769- 1859), who "characterized the vast diversity of nature as an interconnected global force. He also believed that imagination was essential to experiencing and understanding nature." The ideas of interconnectedness and imagination are at the center of the workshop. While previous workshops focused on politics, ecology, and artistry, the collaboration with LASALLE College of the Arts centers around the natural world, how people interpret natural phenomena and relate to it.
As in previous Cross-Pollination workshops, curatorial processes were utilized in the classroom experience, using visuals of the objects from the MFIT exhibition, students designed garments and accessories that responded their local context in Singapore and South Korea. The student work was displayed in an exhibition at La Salle College of the Arts in October of 2017. The exhibition in Lasalle and the publication produced afterwards provided a new level of interpretation of the MFIT exhibition.
View the results of the Force of Nature Cross-Pollination Workshop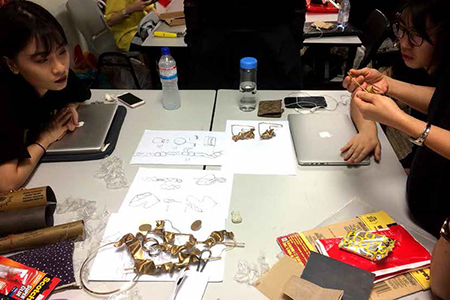 LASALLE College of the Arts students engaging in discussion during the
Force of Nature Cross-Pollination Workshop
Developed by MFIT's senior curator of education and public programs, Tanya Meléndez-Escalante, the Cross-Pollination series has allowed The Museum at FIT to establish collaborations with various educational institutions around the world. Part of FIT's vision is being a truly global institution where students are encouraged to cross traditional disciplinary boundaries to stimulate creativity.
Editorial Direction:
Circe Henestrosa and Vera Kwok
Conceptualization of the project in Singapore:
Circe Henestrosa and Tanya Meléndez Escalante
Conceptualization of Cross-Pollination Project at MFIT:
Tanya Meléndez Escalante
Text:
Valerie Steele, Nur Hidayah, Abu Bakar, Circe Henestrosa, Martin Bonney, Tanya Meléndez Escalante, and Melissa Marra-Alvarez
Text Editing and Proofreading:
Nur Hidayah and Abu Bakar
Art Direction and Design:
Vera Kwok and Christopher Purnawan
Editorial Assistant:
Daniela Monasterios Tan
Project Management:
Adrian Huang
Academic Team:
Adrian Huang, Ling Goh, Daniela Monasterios Tan, Martin Bonney, Jeremiah Tan, Vera Kwok, and Christopher Purnawan