This year's Cross-Pollination Workshop was developed in tandem with the exhibition Eco-Fashion: Going Green, that was on view at The Museum of FIT from May 26 to November 13, 2010. Cross-Pollination: Eco-Fashion was collaborative project involving students from the State University of New York's Fashion Institute of Technology in New York City and Centro de Diseno, Cine y Television in Mexico City. The collaboration concluded with the publication called Cross Pollination: Eco-Fashion: Going Green. To download the publication, please click here. The publication includes a pattern to make a shirt, consequently enabling you to wear the publication.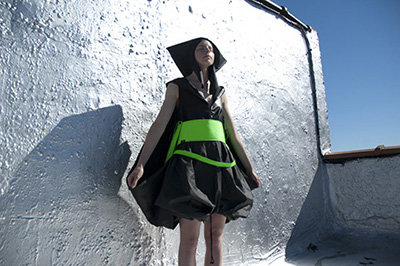 Say Good-bye to Toxic Relationships.
Adjustable sack-back bubble dress with wide belt, and peaked fly hood by CENTRO student Paulina Ortega, all of non-biodegradable
vinyl and other polyesters.


In the summer of 2010, The Museum at FIT invited five students from each institution to investigate ecological sustainability in fashion and what that means to them. The two teams of students were then asked to work together to develop a joint project that would reflect their discoveries and conclusions. In researching the topic of eco-design, the FIT students interviewed sustainable designers Hector Galvan (Mexico City) and Lika Volkova (New York), while CENTRO students met with sustainability expert Cristina Balcazar, United Nations Advisor for Water and Sustainability.

Based on their particular abilities and areas of study, each team was assigned a specific role in the project. FIT students pursuing a Masters of Arts in Textile Studies: History, Theory, and Museum Practice were given the responsibility to provide theoretical support to CENTRO undergraduate students majoring in fashion, product, and graphic design who had been tasked with designing eco-conscious objects. The teams differing backgrounds became essential to the projects success.
Student researchers were able to share ideas with one another and to exchange comments using Skype and Facebook. These and other social media tools helped to create a much closer link between the two groups than would otherwise have been possible. Facebook, for instance, provided them with the opportunity to express their thoughts and discoveries spontaneously, while Skype allowed them not only to see one another during conversations, but also to augment their points with visual aids.

Students names and their contributions to the Cross-Pollination Workshop are as follows:

FIT:
Ariele Elia and Keren Ben-Horin; interviewers
Katherine Lapelosa and Jessica Barber; article writers
Audrey Chaney and Laura Helms; photo shoot

CENTRO:
Pia Grassi; designed a sustainable outfit.
Paulina Ortega; designed a toxic outfit.
Alejandro Curi; designed a machine to manufacture shoes out of rubber tires
Antonio Gallardo and Eduardo Castro; publication design.

In New York, FIT's students worked with Tanya Melendez and Patricia Yague from The Museum at FIT. In Mexico City, CENTRO professor Sebastian Romo advised and guided the students.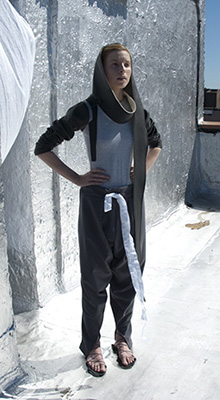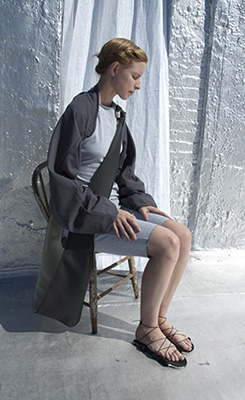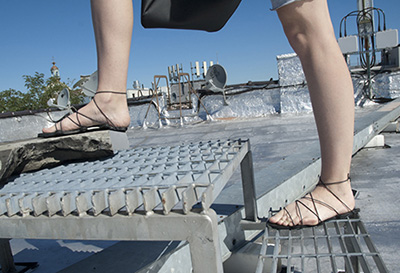 Re-Purposeful Design.

Sandals made from recycled automobile tires, designed by CENTRO student Alejandro Curi.
The sandals are created by machinery intended for use in rural communities.
This workshop was organized in collaboration with the Mexican Cultural Institute of New York and Centro de diseo, cine y television. It was made possible in part through funding by the FIT Student-Faculty Corporation.