Oaxaca Stories in Cloth: A Book about People, Belonging, Identity and Adornment
Presentation and Book Signing, October 17, 2016, 6 - 8pm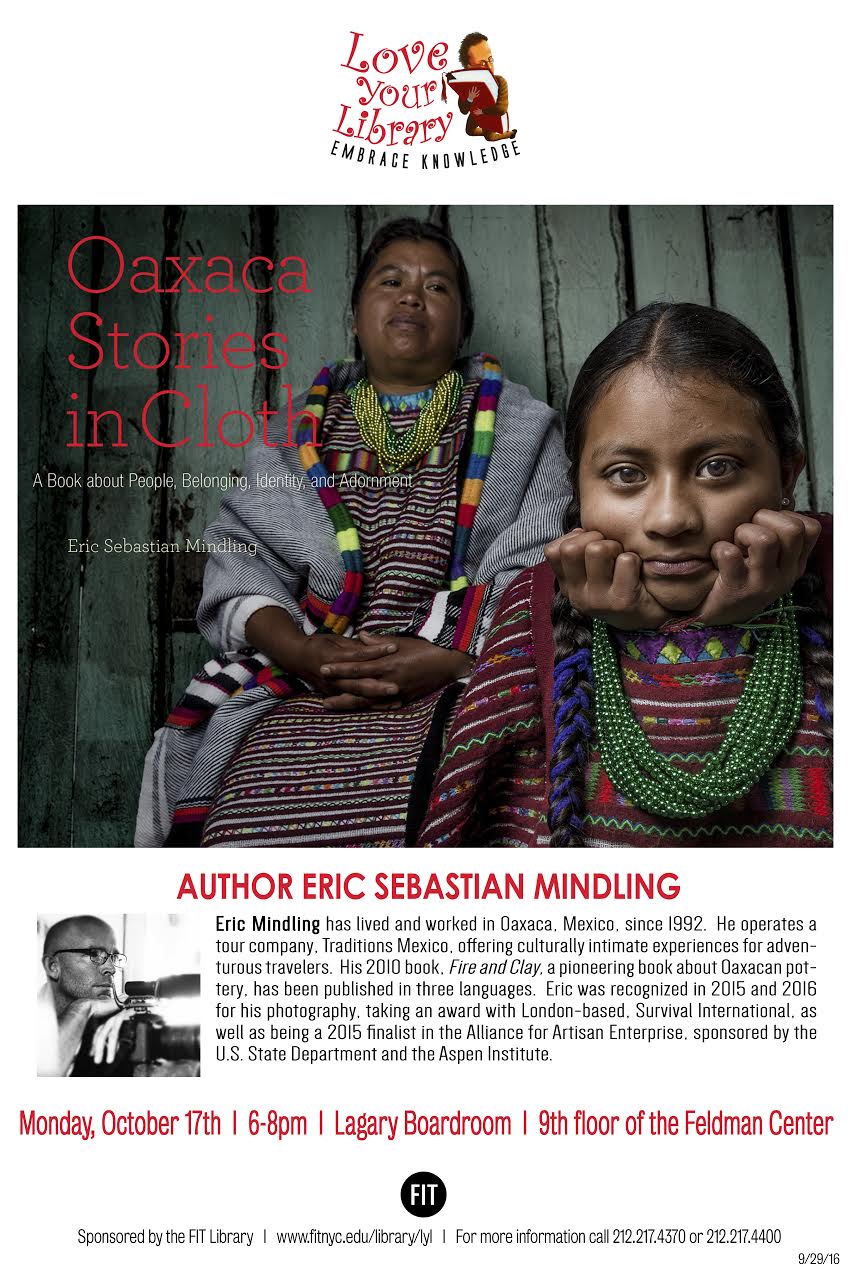 Eric Mindling has lived and worked in Oaxaca, Mexico, since 1992. He operates a tour company, Traditions Mexico, offering culturally intimate experiences for adventurous travelers. His 2010 book, Fire and Clay, a pioneering book about Oaxacan pottery, has been published in three languages. Eric was recognized in 2015 and 2016 for his photography, taking an award with London-based, Survival International, as well as being a 2015 finalist in the Alliance for Artisan Enterprise, sponsored by the U.S. State Department and the Aspen Institute.
---
The New Creative - May 3, 2016 9am-12pm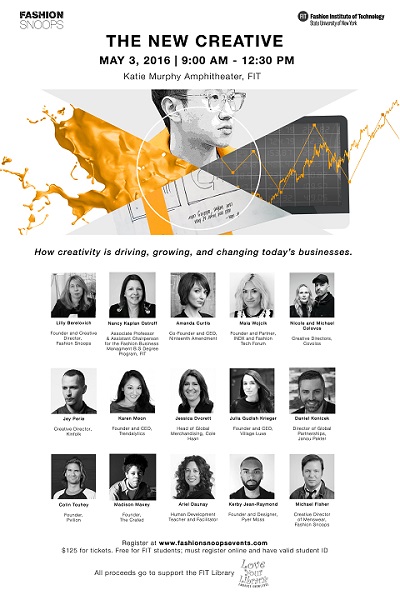 The New Creative
Date / Time / Location: Tuesday, May 3, 2016 | 9am - 12:30pm | Katie Murphy Amphitheatre
We can't wait for our #newcreative event happening on May 3rd at #FIT, we have a number of new creatives as speakers who are: daring, modern, and fearless.
We invite you to explore THE NEW CREATIVE: how creativity is driving, growing, and changing today's businesses. Join us as we speak to Creative Leaders who are transforming big business, CEOs that are blending art and science, and entrepreneurs that are scaling creative-led businesses.
Featuring a selection of curated panels and one-on-one interviews, we will hear from industry leaders on how creativity is driving business strategies and shaping the landscape. Co-hosted by top trend forecasting agency Fashion Snoops and FIT, this design-forward conference brings together CEOs, Creative Directors, innovators, entrepreneurs, makers, students and the decision-makers of tomorrow.
Who should attend: entrepreneurs, corporates leaders looking to embrace and nurture creativity, investors, and anyone young or old who embodies the spirit of THE NEW CREATIVE.
All proceeds go to support the FIT Library.
Purchase tickets here. Free for FIT Students with a valid FIT email address.
---
Late Night Against Procrastination
Date/Time/Location: Tuesday, May 3, 2016 | 9pm - 2am | Gladys Marcus Library, 5th floor
The Writing Studio and the Library are teaming up for our end of semester Late Night Against Procrastination. Students can work on papers, get research and writing advice from librarians and tutors, and even take study breaks with some snacks and games.
Contact writing_studio@fitnyc.edu for more information
---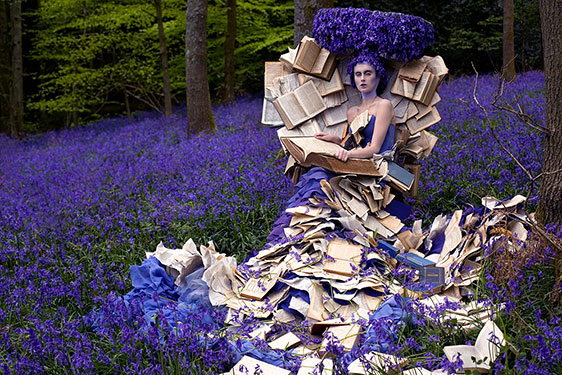 Fashion Culture Lecture: Fairy Tale Imagery
Date/Time/Location: Thursday, March 31, 2016 | 6pm | John E. Reeves Great Hall
Visual artists Natalie Frank and Kirsty Mitchell join Colleen Hill, curator of The Museum at FIT's exhibition Fairy Tale Fashion, to discuss the use of fairy tale imagery in their work. Frank's recent exhibition, The Brothers Grimm, featured 25 chalk and pastel drawings. Mitchell's dreamlike photographs intertwine fantasy, literature, and personal meditations. Organized in collaboration with the Gladys Marcus Library.
All Fashion Culture events are free, but registration is required; register online here, call 74585, or email museuminfo@fitnyc.edu.
---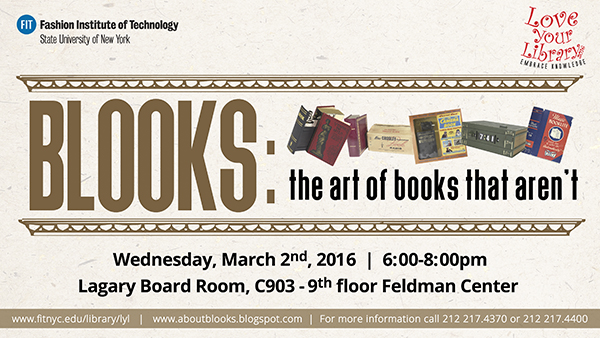 Blooks: the art of the books that aren't
Date/Time/Location: Wednesday, March 2, 2016 | 6pm - 8pm | Lagary Board Room, C903, 9th floor, Feldman Center
Book-shaped objects are everywhere. Our emotional connection with books and reading has driven the production of a surprising range of book-shaped objects and products which are now referred to as "blooks". Mindell Dubanksy, Head of Conservation at the Thomas J. Watson Library at The Metropolitan Museum of Art, will present a history of "blooks" and will discuss her current exhibition now on view at the Grolier Club.
Related Links:
Interview with CBS News [video]
"Blooks: The Art of Books That Aren't Explores the World of Fake Books" [NY Times]
---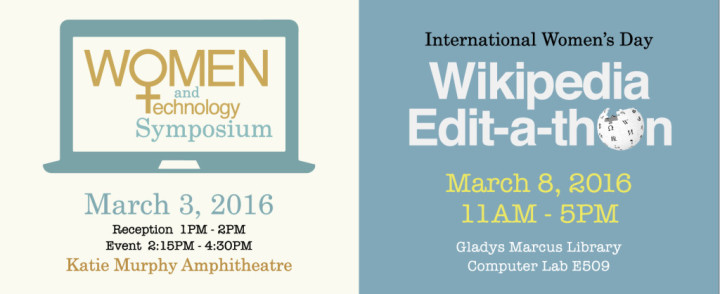 About Women and Technology: Symposium and Wikipedia Edit-a-thon
The Women and Technology: Symposium and Wikipedia Edit-a-thon is a collaborative effort between the FIT Gladys Marcus Library and the Information Technology department; made possible through a grant from the President's Diversity Fund.
Purpose
The Women and Technology: Symposium and Wikipedia Edit-a-thon is designed to empower female students to engage with technology through talks by successful female technologists and with a hands-on activity that affirms their ability to engage with technology and to become part of the conversation in an empowering and positive way.
Who can attend?
Both the Symposium and Wikipedia Edit-a-thon are inclusive events where "newbies" and proficient programmers can experience the camaraderie of shared interest, learning, and participation that elevates women in technology. Open to all FIT Students, Staff and Faculty; women, women-identified, gender neutral, and male allies are welcome to attend.
Do I have to attend both events?
Attendance to both events is not required but strongly encouraged.
WIKIPEDIA TRAINING
Training is not required for participation in the Wikipedia Edit-a-thon on March 8, but it is encouraged.
Wikipedia Workshop for Students
The Gladys Marcus Library will be hosting Wikipedia workshops during common hour for students who want to become Wikipedia contributors and participate the Wikipedia Edit-a-thon. Learn about new Visual Editor, what elements make good Wikipedia entry, how to choose what to write about, and more. All classes will be held in Room E509 in the library.
Tuesday, February 2 from 1:00-2:00 PM
Thursday, February 4 from 1:00-2:00 PM
Tuesday, February 9 from 1:00-2:00 PM
Thursday, February 11 from 1:00-2:00 PM

Please register for a Wikipedia Workshops for Students

Wikipedia Workshop for Staff and Faculty
The Information Technology department's Technology Development Team is offering a limited time training on Wikipedia basics in preparation for the Women and Technology: Symposium and Wikipedia Edit-a-thon. Find out why Wikipedia can be an excellent teaching and learning resource by exploring Wikipedia's core policies and guidelines. Learn how to start contributing to the free online encyclopedia by editing and creating Wikipedia pages. All classes will be held in Room B915.
New Users Workshop
Wednesday February 17th, 2016 10am – 11:30am
Wikipedia Open Hours Session
Wednesday February 24h, 2016 10:30am – 11:30am
Thursday February 25th, 2016 1pm – 3pm
Please register for a Wikipedia Workshop for Staff and Faculty
Symposium Speakers:
Grace Choi Founder and CEO of Mink, Grace Choi, is a graduate of Cornell University and the Harvard Business School. Grace originally presented Mink — the first printable make-up system — at TechCrunch Disrupt in 2014. She has since been featured in media outlets such as CNN, NBC TODAY, Businessweek, Forbes, WWD, Harper's Bazaar, Elle, Glamour, Allure, Marie Claire, Lucky and New York Magazine. Grace Choi was recognized by Advertising Age's Creativity 50 2014, Glamour's 2014 Tech Hero of the Year and was listed as one of the "35 beauty superstars under 35."
Krystal Persaud is an industrial designer and the Director of Product Design at littleBits, an award-winning platform of electronic building blocks for creating inventions, large and small. She recently led the design team behind the littleBits Gizmos & Gadgets Kit, which was featured in The New York Times, The Wall Street Journal, TIME, and WIRED, among others. A graduate of the Georgia Tech School of Industrial Design, Krystal is also the founder and managing member of the design collective Grouphug and teaches a course on product development processes & materials at the New Jersey Institute of Technology. In her work, Krystal is committed to the idea that product design will revolutionize the fields of education, public health and sustainability, and is passionate about bridging gaps between industrial design and other disciplines.
Madison Maxey, Co-Founder and President of The Cråted, is a creative technologist and 2013 Thiel Fellow. Her contributions to wearable technology have been featured in Wired, Fast Company and New York Magazine and she has provided wearable tech insights to the White House and Google. She was the youngest to intern at Tommy Hilfiger at 16, a Teen Vogue and CF+DA scholarship recipient, and named a "founder to watch" by Women 2.0. In addition to being an Entrepreneur in Residence at General Assembly, she advises the 500 Startups & General Assembly pre-seed accelerator and is on the board of the Urban Assembly Maker Academy, a school focused on fabrications and design thinking.