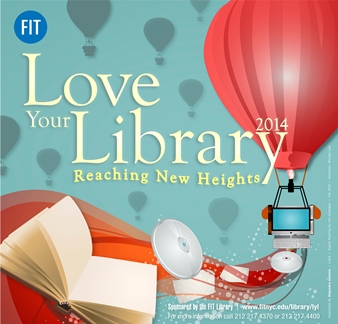 Credit: Alejandro Gonzalez Antonio
CURRENT & FUTURE EVENTS
PAST EVENTS
Fashion Illustration Redefined
King for a Day: Laurence King Publishing Day @ FIT
Disruptive Luxury: 3D Printing for Fashion and Luxury Goods
Seven Fibers that Changed the World
Marion Fasel: Jewelry Author, Expert and Journalist
Financial Aid Awareness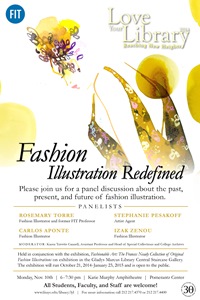 Fashion Illustration Redefined
Date/Time/Location: Monday November 10, 2014 6pm - 7:30pm, Katie Murphy Amphitheatre, Pomerantz Center
The Frances Neady Collection of Original Fashion Illustrations turns 30 this year. It has grown from a seed of 40 pieces to almost 400 pieces of remarkable examples of original fashion illustration.
Please join us as we celebrate this milestone for a panel discussion that will cover the past, present, and future of fashion illustration. Panelists will include Rosemary Torre, Fashion Illustrator and former FIT Professor; Stephanie Pesakoff, Artist Agent; Carlos Aponte, Fashion Illustrator; Izak Zenou, Fashion Illustrator; and Merrilee Hesterfer-Diaz, Art Producer.
Puerto Rican illustrator, and one of Antonio Lopez's proteges, Carlos Aponte, has created a variety of styles very much his own -- from fluid ink lines to graphic icons to images created with masking tape. His first work with the last style was published in Visionaire magazine and has appeared in various fashion illustration books including the latest New Icons of Fashion Illustration by Toni Glenville. Carlos is being represented by Art Department and has been since 1998. The New York Times, Elle, Oui, Target, Clinique, The Washington Post, Coca Cola and MoMA are among his clients. Carlos also created a children interactive iPad story called "Boquitas." Carlos is a faculty member at FIT where he teaches fashion drawing.
Stephanie Pesakoff is the founder of the Art Department Illustration Division, an agency representing over 50 illustrators worldwide. Her agency opened almost 20 years ago in 1995 and enjoys collaborating with a wide range of gifted artists and discerning clients. She has always maintained a curatorial approach and continues to challenge the status quo, always focusing on quality, synergy and consistency.
Rosemary Torre is a native New Yorker who attended Parsons School of Design. She has a BS in Art Education (NYU) and an MA in Museum Studies, Curatorial (FIT). She was an established fashion illustrator before joining the FIT faculty where she taught fashion illustration for 27 years. She is the author of 20th Century Fashion Illustration and the Feminine Ideal, and co-founder, with colleague Fred Bennett (d. 2009), of the Frances Neady Collection of Original Fashion Illustrations, housed in the FIT Gladys Marcus Library Special Collections and College Archives.
Over the last two decades, the exceptionally talented and stylishly quirky illustrator Izak Zenou has forged a reputation as one of the globe's most prolific fashion illustrators. His love of women, fashion, and style icons, such as Audrey Hepburn and Ines de la Fressange, inspire his whimsical imagery. Izak's effortless, visionary style conveys a breezy and fresh, yet elegant and enchanting view of everyday life. Whether his distinctive characters are meeting for cocktails and with girlfriends, taking a stroll through the park, or shopping with their puppies in tow, each vignette boasts Izak's optimistic and confident vision of the world.
Merilee Hesterfer-Diaz is an Art Producer at The Estée Lauder Companies/Clinique where her extensive art and photography background is invaluable to their creative process. Her production and teamwork skills have allowed her to handle both national and global campaigns with confidence, producing projects that include broadcast, print and digital media. She has an enormous wealth of knowledge, amazing resources and is well-versed in all facets of art creation. She considers herself very fortunate, having worked with some of the best talent in the industry. Most importantly, she loves what she does.
The Neady collection is a part of Special Collections and College Archives in the Gladys Marcus Library and this event is part of the Love Your Library series of events.
Recommended Links:
Information about Carlos Aponte
Information about Izak Zenou
Information about Stephanie Pesakoff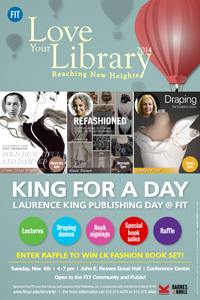 King for a Day: Laurence King Publishing Day @ FIT
Date/Time/Location: Tuesday November 4, 2014 4pm - 7pm, John E Reeves Great Hall, Conference Center

Lectures, book signings, draping demos, special fashion book sales!
4pm. Dean Rhys Morgan will speak about 1980's fashion illustrator, Tony Viramontes
5pm. Sass Brown will speak about upcycled and recycled fashion
6pm. Karolyn Kiisel will provide draping demos from her book Draping: The Complete Course
Each lecture will be followed by book signings. Enter raffle to win a LK fashion book set!
Sponsored by LYL 2014 in conjunction withLK Publishing and B&N @ FIT.
Recommended Links:
Information about Dean Rhys Morgan
Information about alumni Tony Viramontes
Information about FIT Professor, Sass Brown
Information about Karolyn Kiisel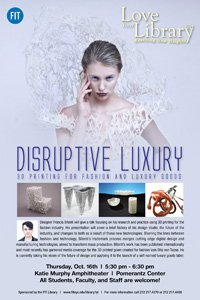 Disruptive Luxury: 3D Printing for Fashion and Luxury Goods
Date/Time/Location: Thursday October 16, 2014 at 5:30pm, Katie Murphy Amphitheater
Designer Francis Bitonti will give a talk focusing on his research and practice using additive manufacturing for the fashion industry. His presentation will cover a brief history of his design studio, the future of the industry, and changes to both as a result of technologies like 3D printing.
Blurring the lines between fashion and technology, Francis Bitonti's trademark process merges cutting edge digital design and manufacturing technologies, aimed to transform mass production. Bitonti's work has been published internationally in many prestigious institutions and most recently garnered media coverage for the 3D printed gown created for fashion icon Dita von Teese.
Looking to the future of design, mass customization, Bitonti sees computational methodologies, smart materials, and interactive environments as opportunities to create new aesthetic languages for our built environment. He is currently taking that vision and applying it to the launch of a self-named luxury goods label.
Recommended Links:
Francis Bitonti's website
The World's First Fully Articulated 3D Printed Gown [youtube]
New Skins: Computational Design for Fashion Workshop [youtube]
MakerBot Stories | Francis Bitonti Studio [youtube]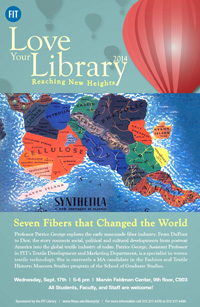 Seven Fibers that Changed the World
Date/Time/Location: Wednesday September 17, 2014 at 5pm, Feldman Center, 9th Floor
FIT Professor Patrice George explores the early man-made fiber industry. From DuPoint to Dior, the story connects social, political and cultural developments from postwar America into the global textile industry of today.
Patrice George, Assistant Professor in the Textile Department and Marketing Department is a specialist in woven textile technology. She is currently a MA candidate in the Fashion and Textile History: Museum Studies program of the School of Graduate Studies at FIT.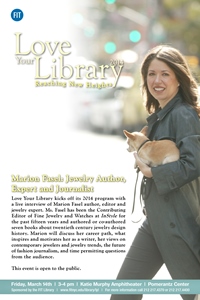 Marion Fasel: Jewelery Author, Expert and Journalist
Date/Time/Location:Friday March 14, 2014 at 3pm, Katie Murphy Amphitheater, Pomerantz
Love Your Library kicks off its 2014 program with a live interview of Marion Fasel author, editor and jewelry expert. Ms. Fasel has been the Contributing Editor of Fine Jewelry and Watches at InStyle for the past fifteen years and authored or co-authored seven books about twentieth century jewelry design history. Marion will discuss her career path, what inspires and motivates her as a writer, her views of contemporary jewelers and jewelry trends, the future of fashion journalism, and time permitting questions from the audience.
With over twenty years of experience writing about contemporary jewelry trends and twentieth century jewelry, Ms. Fasel is frequently consulted by the media for her expertise, the most recent example being the New York Times, in its coverage of the "Jewels by JAR" exhibition at the Metropolitan Museum of Art. Marion Fasel's most recent publications include Bulgari: Serpenti Collection and Bulgari: Bulgari-Bulgari Collection. Her books can be found in the FIT's Library Collection.
This event is open to the public.
Recommended links:
Marion Fasel's website
Women You Should Know Profile(with video)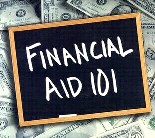 Financial Aid Awareness Information Table
Dates: Tuesday - Thursday, February 4-6; Thursday, February 13, Tuesday, February 25
Time: 12pm - 2pm
Location: Library Lobby, Goodman Center, 5th floor
Learn more about financial assistance to continue your education.