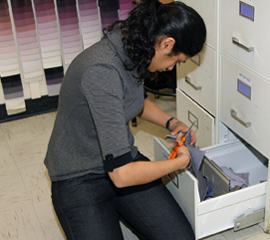 FIT has forged strong alliances with organizations ranging from communications to manufacturing and from museums to non-profits since its founding more than sixty years ago. The Institute's Internship Center has been active the last 25 of those 60 years and has enrolled more than 2500 organizations in hosting its interns. Recently, the Internship Center was merged with the Career Services department and the new center is now known as the Career and Internship Center. The Career and Internship Center is your one-stop service provider.
Our students are eager to gain firsthand experience in their fields, and are prepared to meet the demands of your organizations because their practical training is targeted to specific career areas from their first day on campus. An internship is first and foremost an academic class, which takes place in your workspace. We partner with sponsors who host our interns in this academic endeavor.
By sponsoring an intern, your organization will:
Discover new talent and encourage qualified individuals to enter the fashion and related industries
Receive fresh ideas and energy from our highly motivated students
Preview potential employees without any obligation or risk
Annually, FIT's students fill more than 1000 credit-bearing internships (paid and unpaid) in more than 25 academic majors. These students are drawn from FIT's Schools of Art and Design, Business and Technology, and Graduate Studies.
PLEASE BE AWARE: We are currently working with students who are looking to intern for Spring/Summer 2019. Any immediate-need opportunities must be entered in our separate Career Services Job Bank (CSJB) database as paid jobs which are uncredited instead of credited internships. To post your paid uncredited jobs: https://career-fit-csm.symplicity.com/employers.
Become a sponsor organization! See steps below.

How to Apply to sponsor an FIT student intern:
See also Responsibilities of Sponsor Organizations and The Program's Structure in the left-hand navigation.
Please note:
We run a student-preferenced placement process. Our students carry the responsibility of selecting for themselves the sponsor organizations in which they want to intern. Therefore, we cannot guarantee that you will attract the attention of interns immediately after applying, and in few cases, at all.
Your completed request will be posted for students to review and once/if selected by a students, one of our industry-experienced Internship Center counselors will contact you to set up a time to conduct an on-site review of your facility.
Once you have posted an internship, you do not need to post another one for the same position. Unlike a job posting, it is best to keep the posting active unless the position closes permanently.
For some semesters, and some majors, we tend to have more sponsors in our databank than we have students registered in our program. So we highly advise that you make your posting as appealing as possible.
The first step is to register in our online database. https://career-fit-csm.symplicity.com/employers
Click on "Request For Sponsor Organization Status" to go to the registration form.
Complete the requested information and click submit. Within 48hrs you will receive an email with log in information followed by another email from us with instructions to help you add your credited internship posting(s).
If at any time you experience difficulties or have further questions, please contact Career & Internship Services:
212 217.3000 or email career_internship@fitnyc.edu
Thank you in advance for your interest in supporting our students! The part you play in their transition from student in an educational environment to professional in the business world is a very empowering one!