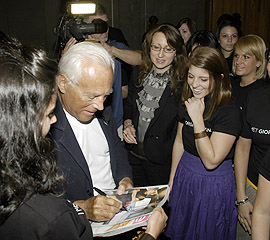 Operating as a central clearinghouse, the Office of Public and Media Relations coordinates, evaluates, and manages all aspects of the college's interaction with the media on both a pro-active and reactive basis. The goal of the office's media outreach is to enhance and advance the reputation and image of the Fashion Institute of Technology and to support the college's strategic priorities.
Any interaction with the media that involves the name of the college is handled by the Office of Media Relations. Media inquiries that are received directly by a department or individual should be promptly forwarded to this office for vetting before a response is given. Since the Office of Public and Media Relations is accustomed to interacting with reporters and handling requests in a timely manner to meet the media's deadlines, we can evaluate the inquiry before engaging an FIT spokesperson.
The office distributes information to the media about every area of the college, including but not limited to institutional stories, public programs, events, program and curriculum developments, faculty and student achievements, contests, and exhibitions and programs at The Museum at FIT.
In addition to identifying and pitching newsworthy stories and responding to media inquiries, the office secures interviews with FIT faculty and spokespersons for print articles, television and radio, and online media that position them as experts in their fields. The office also generates and disseminates press releases and media advisories for the colleges numerous activities and accomplishments, acts as press liaison at events, and arranges and supervises all filming and photographing by media on campus.
The Office of Media Relations approves any press materials, prior to being issued, by external parties in conjunction with events and/or partnerships with FIT.
In the event of a crisis, Media Relations serves as FIT's media liaison, providing timely and accurate information to the press on the situation at hand.
The office monitors media coverage of FIT and the FIT community. This coverage is shared with the President, the Board of Trustees, and the FIT community.
Contact us to:
refer inquiries from the media that you have received;
refer media that would like to film or photograph on campus;
share news that is of potential interest to the media;
add your name and area of expertise to our list of experts;
submit requests for press releases and/or media advisories;
submit requests for media assistance for an event; or
report any inaccuracies in the media regarding FIT.
In order to work most effectively with the media and meet their deadlines, please follow this timeline:
Refer all requests from the media to us immediately, as they are typically deadline driven.
Submit requests to draft or edit press releases and/or media advisories no less than three weeks in advance of the event.
Submit detailed information about public events or programs you would like to have listed in media calendars no less than eight weeks in advance.
Submit detailed information about events or programs that you would like the media to cover no less than six weeks in advance.