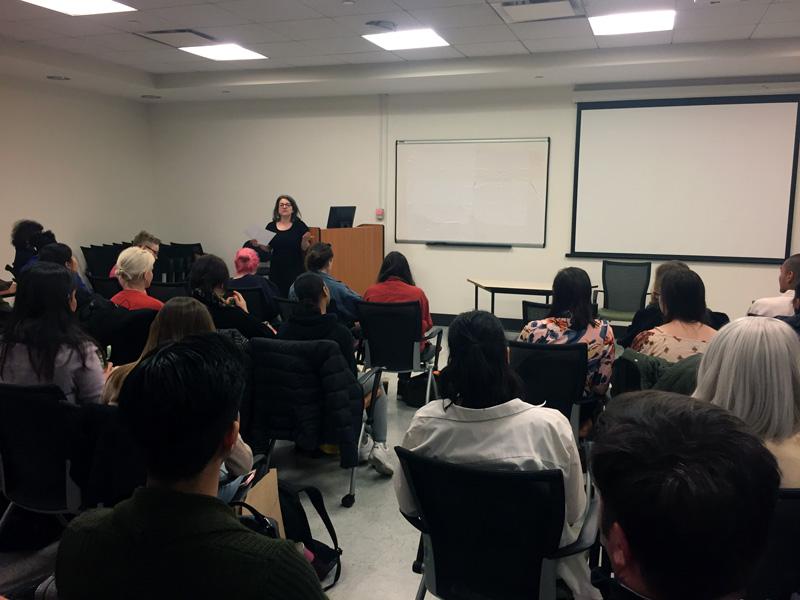 Dr. Melissa Tombro introduces the 2019 Student Reading and Essay Contest Winners
Personal expression: Put your best self forward
At FIT, courses in your major provide the theory and practical skills your profession requires, but in today's complex global economy, you need more. Excellent communication skills are essential. If you speak and write well, synthesize ideas, and think creatively and critically, you're more competitive in the job market. Even more important, you'll use those skills in everything you do, every day of your life.
The English and Communication Studies Department offers courses in three areas: writing, literature, and speech/communication. You'll learn the basics of effective composition and apply them in all your studies or in classes on playwriting or poetry or business writing. You'll gain an appreciation and understanding of literature, gain insights into how people communicate with each other, and discover new ways to express yourself creatively. And learning to communicate clearly and persuasively will improve your confidence and your relationships with clients. A combination of required and elective courses will provide the skills and knowledge you need to meet your career goals and personal interests.
See your advisor regarding English and Communication Studies requirements for your major.
If you are interested in pursuing a minor in English or Communication Studies, consult with the Academic Advisement Center (Feldman Center C402). See Liberal Arts Minors for more information.