Save the Date! October 12–16, 2021
Civility: When We Need It Most
President Joyce F. Brown and the entire college community are focusing their efforts on educating and promoting civility and coming together. Civility Week will be entirely virtual this year. There will be presentations, workshops, and a Diversity Comic Con focusing on civility now and in a post-pandemic world.
The events are for the FIT community only (employees and students). Diversity Comic Con is open to the public.
You will need to enter FIT credentials (firstname_lastname) and password to access the page.
Schedule of Events
---
Civility Week 2021 Keynote Presenter: Dr. Yolanda Sealey-Ruiz
Tuesday, October 12, 10 am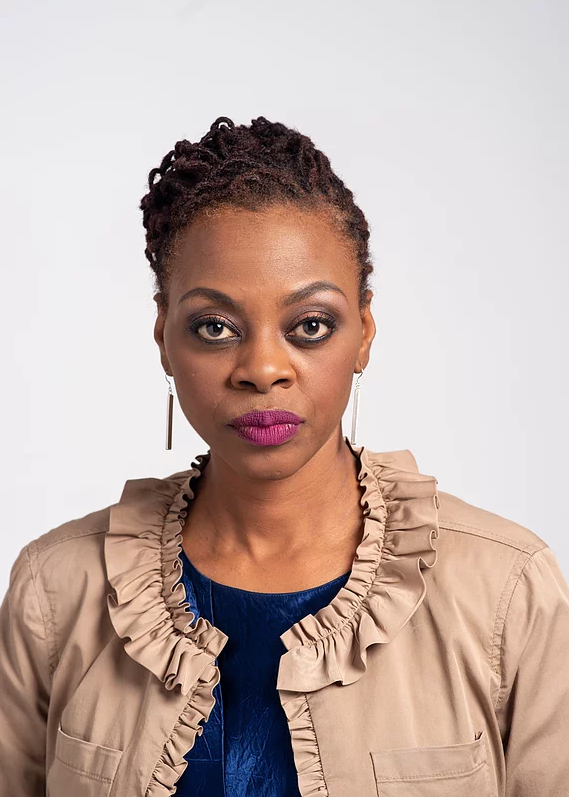 Dr. Yolanda Sealey-Ruiz is an award-winning associate professor at Teachers College, Columbia University. Her research focuses on racial literacy in teacher education, Black girl literacies, and Black and Latinx male high school students. A sought-after speaker on issues of race, culturally responsive pedagogy, and diversity, Sealey-Ruiz works with K-12 and higher education school communities to increase their racial literacy knowledge and move toward more equitable school experiences for their Black and Latinx students. Sealey-Ruiz appeared in Spike Lee's 2 Fists Up: We Gon' Be Alright, a documentary about the Black Lives Matter movement and the campus protests at Mizzou. Her co-authored book with Dr. Detra Price-Dennis, Advancing Racial Literacies in Teacher Education: Toward Activism for Equity in Digital Spaces, will be published in April 2021.
Her first full-length collection of poetry, Love from the Vortex & Other Poems (Kalediscope Vibrations LLC), was published in March 2020, and her sophomore book of poetry, The Peace Chronicles, was released in July. Watch On-Demand
---
Schedule of Events
Tuesday, October 12; 10 am-1 pm
Presenters: Helen Lane and Cody Kirkpatrick
Description: There's significant research on the impact of civility and incivility on both the spread and the susceptibility to false information online. Moreover, there is some evidence that high emotional intelligence plays an important role in an individual's ability to spot fake news and misinformation online—that it is not all about critical thinking skills. In this presentation we will review the salient facts and emerging findings about the connection between incivility and the spread and impact of false information, as well as the importance of emotional intelligence in identifying and correcting false information online.
Wednesday, October 13; 11 am-5 pm
Moderator: Miguel Pena

Description: Employees of Thom Browne offer an inclusive and diverse panel to share information and provide insights about the culture of their company. Each panelist will describe their career and education path. There will be a Q&A session following the panel.
Presenter: Jennifer Lee
Description: In spring 2021, a total of 26 female registered nurses (RNs) working for large New York City hospitals participated in this study. It is important to investigate the clothing needs of female RNs because of their significant population and contributions amid the global fight against COVID-19 pandemic. In 2019 in the U.S., approximately 27% of RNs were from racial minorities, and half of RNs were over 50 years old. There is currently a lack of research on the clothing needs of female RNs who are from these two populations and this work attempts to correct that. According to the survey and interview results received from the study participants, a total of three new protective garments were created. Each garment was fitted to the RN volunteers to evaluate whether it can efficiently protect their bodies and improve job performance during long shifts in hospitals.
Presenters: Gloria Jetter Waitt and Cody Kirkpatrick
Description: The goal of this discussion is to empower students to stay true to their values, expectations, and needs within sexual encounters as well as building respect for others, promoting equality, and raising the bar for sexual conduct. As most sex education tends to focus on "safe sex," medical risks, consent, and what do to if one is sexually assaulted, there is often a missing dialogue around intimacy, love, relationships, mutual respect, and pleasure. Clear communication is key when it comes to expectations and boundaries of sexual encounters, and a discussion group can be an effective tool in facilitating such dialogue.
Thursday, October 14; 10 am-3 pm
Presenter: Ron A. Milon
Description: How important are human rights? Long before the phrase "human rights" came into existence, men and women fought and died for basic human freedoms. In fact, this struggle has lasted thousands of years and still continues today. Ultimately, human rights are the basis of everything people cherish about their way of life. In their absence, happiness is impossible because there is no personal security, no freedom, and no opportunity. Thus all peoples have long recognized their fundamental importance and have sought to articulate and defend them. Dr. Ron Milon, chief diversity officer, will present a workshop on the United Nations' Universal Declaration of Human Rights. The workshop will explore the history of human rights and discuss the importance of such rights in our daily lives. There will be a video presentation followed by a question-and-answer period.
Presenters: Matthew Petrunia and Nurhayat Bilge
Description: If incivility is equated as an individual's overtly rude or inappropriate behavior, why would rational people engage in these destructive actions that can impact people's productivity and create hostile working conditions? Failure to recognize incivility in its many forms may be part of the problem. Although there is plenty of information and scholarship on why we need civil discourse and behavior, many may not have a strong foundation as to what constitutes incivility or how it manifests itself in business and educational contexts. In this session we will describe the different techniques people use to transform healthy environments into uncivil nightmares, address incivility's interpersonal costs, and reveal why incivility continues to exist within workspaces despite an overwhelming desire to create civil sites of engagement.
Presenters: Jennifer Stachacz and Gloria Waitt
Description: This workshop aims to educate and demonstrate to students therapeutic practices that release stress and promote overall wellness and balancing. We find that health and wellness is key to helping students navigate tensions and difficult conversations in the classroom and in the world at large. It will provide an introductory didactic on ancient healing modalities in sound bath and reiki to support deep relaxation, help cope with difficulties, relieve emotional stress, and improve overall well-being.
Friday, October 15 and 16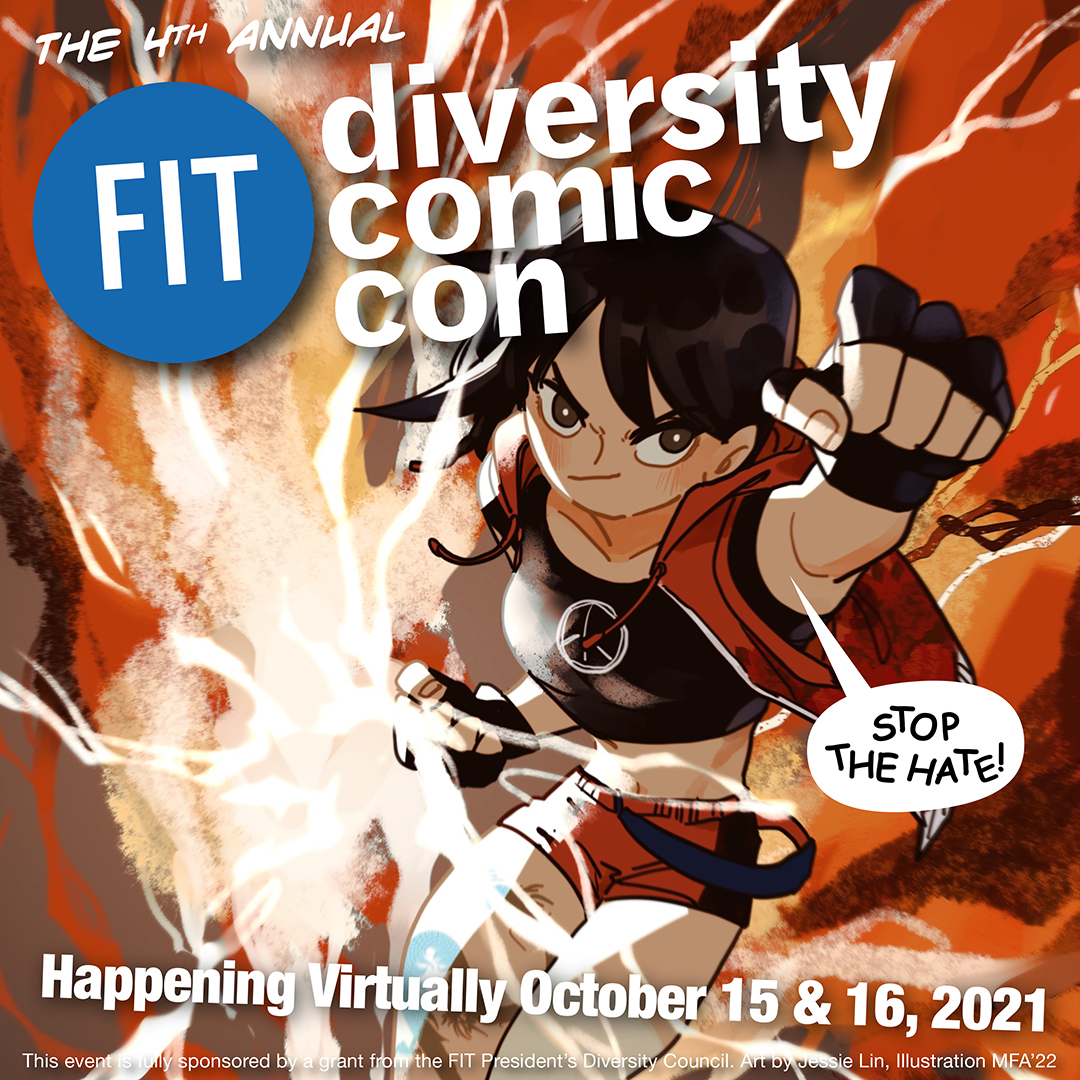 Diversity Comic Con (Open to the Public)
The Fourth Annual Diversity Comic Con at FIT will be held online, Friday, October 15, through Saturday, October 16. This year's theme is "Stop the Hate!" in response to recent crimes perpetrated especially against Asian Americans.
Programs will include panel discussions, a drawing content, a cosplay pageant, a networking party and a virtual exhibition floor. FIT students and faculty are especially invited to be exhibitors.
This year's guests include Shelly Bond (Black Crown), Wendy Chin-Tanner (A Wave Blue World), Josipa Čok (Eco Woman), Melody Cooper (Humanoids), Ray Felix (Bronx Heroes), Karen Green (Columbia University), Joseph Illidge (Heavy Metal Magazine), Enrica Jang (Red Stylo Media), Joshua Luna (Image Comics), Evan Narcisse (Marvel Comics), Tintin Pantoja (Simon & Schuster), Budjette Tan (Netflix), Tak Toyoshima (Secret Asian Man), Billy Tucci (DC/Marvel), and many more!
To be an exhibitor or for more information, please email Ramon Gil at [email protected] or go to diversitycomiccon.com.
Diversity Comic Con is an annual event that celebrates diversity in the comic arts and is fully sponsored by a grant from the FIT Diversity Council.
Schedule of Events
Beyond Superheroes: Dynamic Characters in Comic Books.
Friday, October 15 @ 4:00pm EST
How to Self Publish
Friday, October 15 @ 6:00pm EST
SATURDAY
Countering Asian Hate
Saturday, October 16 @ 12:00pm EST
The International Comics Scene
Saturday, October 16 @ 2:00pm EST
The Authentic Voice: Showing "isms" in Comic Stories
Saturday, October 16 @ 4:00pm EST
Drawing Contest
Saturday, October 16 @ 6:00pm
Creator Virtual Networking
Saturday, October 16 @ 8:00pm EST