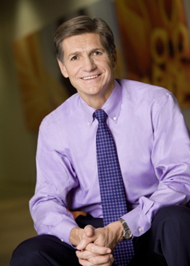 Marc S. Pritchard
Procter & Gamble, Global Marketing & Brand Building Officer
Marc Pritchard is responsible for the brand building disciplines of the worlds largest advertiser, Procter & Gamble (P&G). Marc has responsibility for company's brand building efforts including Brand External Relations, CMK (Consumer & Market Knowledge), Design and Marketing . As the company's top brand builder and chief marketer, Marc is accountable for setting the media and marketing strategies that guide the communications and brand building for P&G's portfolio of more than 300 brands worldwide, representing nearly $80 billion in sales.
Marc brings a robust set of experiences having led brands in the Health & Beauty categories for P&G over the past 20 years. In addition to growing a successful cosmetics and hair care business, Marc's leadership in integrating high profile acquired beauty brands, including Clairol and Wella, have established P&G as a beauty industry leader. Inspired by fashion and other industries, Marc's unique vision is focused on new ways to connect with a broader audience of consumers.
Appointed Global Marketing Officer August 1, 2008, Marc oversees a budget of $7.6B (as reported in the 2009 annual report) in advertising that the company invests to reach its diverse audience. He is also accountable for the development of the more than 5,000 marketers globally to ensure P&G has the marketing expertise needed now and for generations to come. In July, 2009, Marc's role expanded to not only serve as Global Marketing Officer, but Global Brand Building Officer, where he along with the leaders of each of the brand building disciplines are aligning the companies strategy to reach more of the worlds consumers in more parts of the world more effectively to improve and touch lives through the work of P&G brands.
Throughout his career, Marc has been entrusted to lead innovative branding and marketing campaigns, such as the work he delivered to create the Easy, Breezy, Beautiful Cover Girl campaign, which remains the mantra of the brand today. Marc's pioneering approach is not limited to marketing as he has had much success in developing product and operational innovation. For example, in his role as President of Global Strategy (2006-2008), Marc's efforts to drive sustainable growth and expand productivity resulted in capability improvement and an ongoing simplification program that streamlined work processes and organization structure companywide.
Marc is a 28-year veteran of P&G, joining the company as a Cost Analyst in the Paper Division in 1982. His first marketing role was Assistant Brand Manager for Sure antiperspirant/deodorant in 1987. After two years building the Sure and Secret business, he moved to Hair Care where he had responsibility for Pantene, Prell, Pert Plus and Vidal Sassoon.
In 1992, Marc moved to Oral Care as Marketing Director for Crest, Scope and Future Products. He was named General Manager for U.S. Skin Care products two years later with responsibility for Olay, Noxzema, Clearasil and Bain de Soleil. While on a short term special assignment, Marc created the first information technology strategy for P&G that included launching consumer branding programs through the internet and creating scale for the company through innovative new systems.
Marc returned to lead the U.S. Cosmetic and Fragrance business in 1996 as Vice President & General Manager. In 1999, his responsibility expanded to include Latin America and a year later he further extended his role to include Global Design in addition to NA and LA cosmetics. In 2003, Marc was named President, Global Cosmetics and Personal Care and in 2004, he assumed responsibility for Hair Colorants as well.
For the past two consecutive years (2008, 2009), Marc was recognized by Advertising Age as the #1 Power Player in the Marketing industry worldwide.
Marc is a recognized beauty industry leader actively involved for more than 12 years in the Cosmetic, Toiletries and Fragrance Association. Marc became Vice Chair of the CTFA in 2002 and served as Chairman of the Board (2004-2008). Additionally, Marc serves on the Board of Directors for the Ad Council (since 2009) and has served on the Board of Directors for the World Trade Center Institute of Baltimore since 2001. He has been honored by the American Cancer Society, Fashion Institute of Technology, Beyond Beauty OCD Foundation and the Pratt Institute for Design Excellence.
A graduate of Indiana University, the Oakland, CA native is married. Marc and his wife, Betsy, have three daughters.