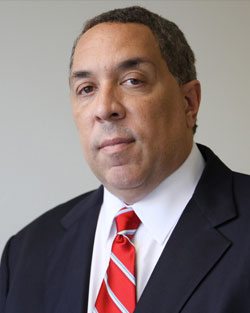 Stephen Tuttle is general counsel and secretary of the Fashion Institute of Technology, serving as the colleges chief legal officer and as a member of the presidents cabinet.

Before joining FIT, Mr. Tuttle was senior vice president and chief legal officer for operations at Forest City Ratner Companies, the regional subsidiary of Forest City Enterprises, a publicly traded real estate development company with more than $9-billion in diversified assets. His responsibilities included management of a team of professionals that provided legal support on all matters related to the ownership and operation of more than thirty commercial properties in the New York metropolitan area inclusive of office buildings, shopping centers, residential developments and hotels. In addition to real estate matters, his responsibilities extended to providing counsel on a broad range of general corporate matters and initiatives. He also served as the company's senior legal counsel providing services to several subsidiary service companies and support departments, including information technologies and human resources.

Prior to Forest City, Mr. Tuttles career included more than twelve years of corporate and investment related in-house services to the New York Life Insurance Company. In his position as director and associate general counsel, he provided legal support to the company's financial investment subsidiary, New York Life Investment Management Company. He also served as the company's senior legal counsel to its corporate services and facilities departments. Special projects included his role as the insurance company's counsel in connection with the historic landmark designation of the New York Life Building (at 51 Madison Avenue) by the New York City Landmark Preservation Commission.

Additionally, his professional career includes more than seven years of law firm experience gained in positions that include four years as an associate within the Banking and Finance practice group of Dreyer and Traub. He has also served a term as law secretary to the Honorable Alfred H. Kleiman, a New York Supreme Court judge presiding over both civil and criminal actions.

Mr. Tuttle earned his Juris Doctorate degree from Syracuse University College of Law and his Bachelor of Arts from Franklin and Marshall College. He has been an active participant in various industry and bar association committees and groups, including the New York Bar Association, the Association of Corporate Counsel and the National Association of College and University Attorneys. He was elected a Fellow of the American College of Mortgage Attorneys in 1997. He has also been a guest lecturer and participated on several panels addressing numerous real estate and corporate counsel topics.