Happy 2018 — may this semester be successful for all our FIT students and faculty! This February marks a decade since we began our very successful Love Your Library event series during Valentine's Day week in 2008. Over the last 10 years we have hosted a wide range of events, including panel discussions with FIT faculty, book authors, and even the creator of the first 3D printed dress.
We begin the spring semester with three completed projects under our belt. Our Periodicals and Electronic Resource Services Unit moved to the 4th floor, Special Collections and College Archives had its ribbon-cutting ceremony in October, and our new Maker Space and Art Resources Lab are newly housed on the 6th floor. In addition, we have reassigned room E521 to be a much needed quiet study space, room E404 is now a fashion forecast classroom and overflow study space, and room E605 has become a group study space.
Library faculty and staff continue to strive to successfully exceed your expectations in fostering a space that provides collections and services to support the diverse curriculum and research here at FIT. Learn more about our team, resources and services spotlighted in Issue 2 of CONNECTED - The FIT Library Newsletter.
Professor NJ Bradeen | FIT Library Director
---
Database Spotlight

Bloomsbury Design Library — trial access through June 30, 2018

"From Alvar Aalto to virtual reality design, and from authoritative reference information to innovative scholarly research, the Bloomsbury Design Library provides coverage of design and crafts worldwide, from 1500 BCE to the present day."

"Including full-text content and images, the three-volume Bloomsbury Encyclopedia of Design, the two-volume World History of Design, hundreds of profiles on influential designers, and an interactive timeline, the Bloomsbury Design Library enables exploration of global design and crafts history."

Access trial: http://fitnyc.libguides.com/trial

Archive on demand (AOD) is an online video platform created by the FIT Library under the vision of Associate Director Greta Earnest. Our goal is to make videos of lectures and events that occur on campus available online to the FIT community and the general public.

In addition to collecting documentation of ongoing events at FIT -- from fashion shows to visits by award-winning filmmakers -- the AOD team (Leslie Preston, Joseph Anderson, and Andrea Klein) has also begun the process of digitizing many analog videos, including a vintage instructional series on sewing a draping.

Check us out at archiveondemand.fitnyc.edu!
---
Library Hours - 5th Floor ONLY | fitnyc.edu/library | 212.217.4400 | Mon-Thur 8am-12midnight, Friday 8am-7:30pm, Sat 10am-7:30pm, Sun 12 noon-9pm. Some services are not available on all floors. | Social Media Network: Facebook @FITLIBRARY, Instagram @FITNYCLIBRARY, Twitter @FITLIBRARY, Wordpress blog.fitnyc.edu/volumesandissues.

---
New at Access Services
Omnicharge Portable Chargers
Looking for a power source to charge up laptops and phones? The Access Services Unit has portable chargers available for check out. Omnicharge Portable Chargers allow students to power up to four devices anywhere in the Library. Students are advised to bring their own charging cable to use these chargers.
Also: Interlibrary Loan is primarily a free service that allows patrons of the Library to request articles, books, and DVDs from libraries across the United States, when not found in the FIT Library. Requests can take up to two business weeks, depending on the rarity of the item, but most items are received within a week. Inquiries regarding Interlibrary Loan can be made at the Access Services Desk.
---
Personnel News
Anne Appert - Library Services Specialist
Anne works in two units of the FIT Library. She is a member of the 4th floor Periodicals and Electronic Resource Services Unit and the 5th floor Access Services Unit. Her dual role benefits the Library in having her skill set in both areas of public service.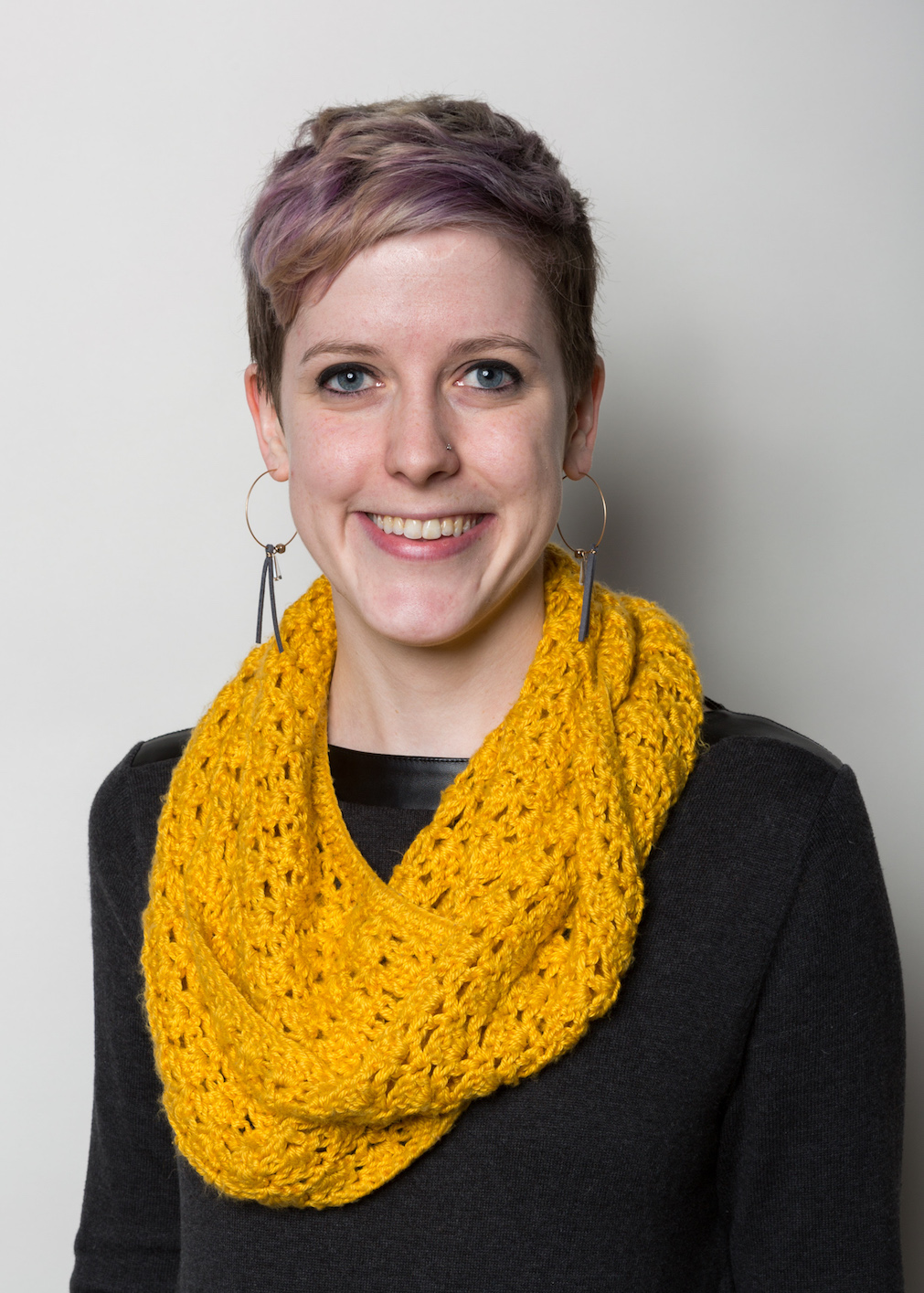 Anne has been involved with various Library initiatives, including digitization and metadata creation and the creation of promotional and informational materials for the Library. In 2017, she was a co-leader of the Library's Professional Development Day entitled, Beyond Books, which was well received by our library team.
Anne is an FIT alum. She holds an A.A.S in Fashion Illustration and a B.F.A. in illustration. She continues to practice as a freelance illustrator, primarily creating children's illustrations. Anne is an active member of the Society of Children's Book Writers and Illustrators.
---
Maker Minds Event Series

Button Maker Activity: February 13th, 2018, 12-2pm, 6th floor

Make your very own wearable buttons! Bring your printed photos, original art,

magazines and more to fit our 1'' or 2 1/4'' buttons. Great for Valentine's Day!

Custom Design T-Shirts: March 9th, 2018, 12-2pm, 6th floor

Wearable Tech and Lilypad: March 23, 2018, 12-2pm, 6th floor

Makey Makey Giant Keyboard: April 20, 2018 12-2pm, 6th floor

LEGO Free Play!: Every Thursday, 12-2pm, 6th floor
Citation Salon
Citation Salon: Research! Cite! Grab a bite! Tuesday, February 20th, 8pm-midnight. Mini-session on citation skill building with Librarians Maria Rothenberg and Christina Kennedy. Librarians will be available for assistance. 6th floor of the Gladys Marcus Library, Shirley Goodman Resource Center.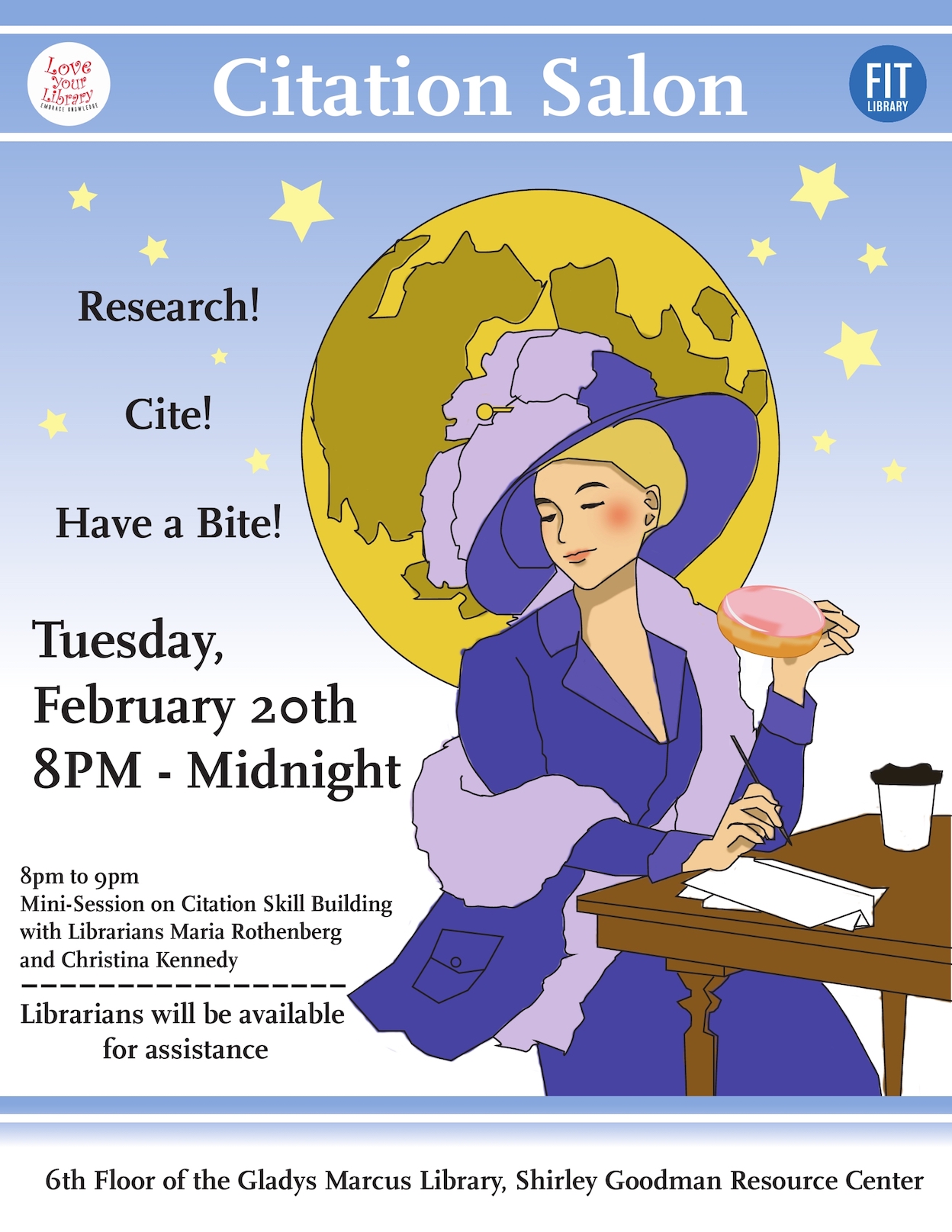 ---
Ask the Library 7 days a week on the 5th floor of the FIT Library OR

---
Ask the Library 7 days a week on the 5th floor of the FIT Library OR email: [email protected] instant message: fitnyc.edu/library/ask text: 646.759.9553 call: 212.217.4400
Click on image to enlarge and print.