Developing a Course
If you wish to develop a new course or revise a course, your first action is to develop a course of study for this new or revised course. You will need to discuss this with the chairperson of your department.
Review these resources:
Recommended Curriculum Committee Guidelines for a Course of Study
The CET website for assistance in writing learning outcomes and the Writing Studio for writing new courses of study.
This Course of Study template
Complete appropriate Course Inventory Management (CIM) form(s) in the MyFIT website. There are three types of CIM forms; the course admin form; for editing courses and proposing new courses, the program admin form; for edits to current programs, and the miscellaneous admin form; for all other changes. For help with completing the forms, contact Faculty and Academic Program Support at courseleaf_help@fitnyc or (212) 217-4050.
Please be mindful that courses submitted in the Fall semester will not be available for registration until the following Fall semester. Please refer to the FIT Curricular Calendar for meeting dates.
Workflow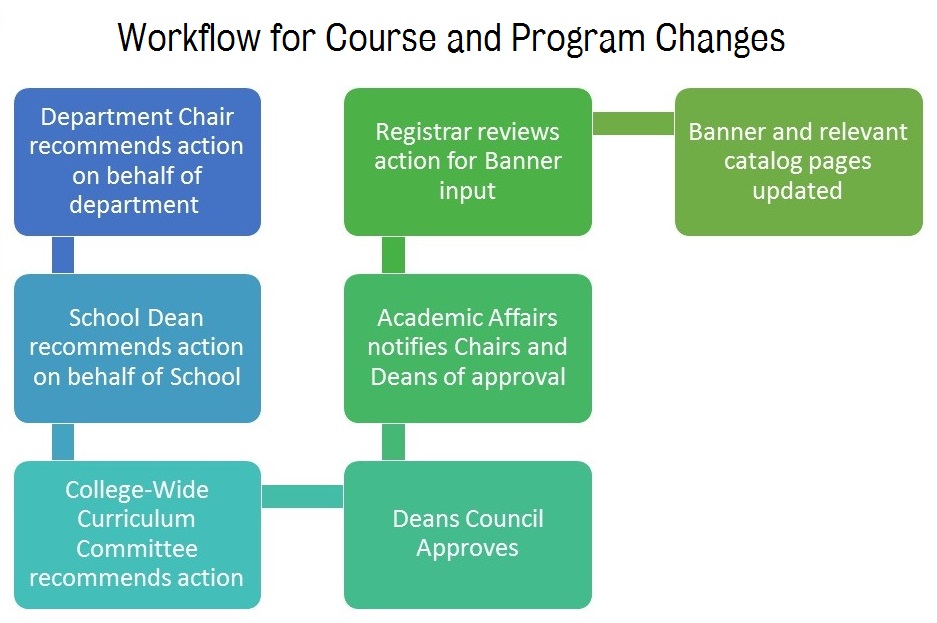 The workflow for course and program changes is as follows:
The department chair recommends action on behalf of department.
The school dean recommends action on behalf of the school.
The college-wide curriculum committee recommends action.
The registrar reviews action for Banner input.
Academic Affairs notifies the chairs and deans of approval.
The Dean's Council approves.
Banner and relevant catalog pages are updated.