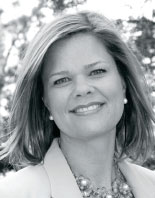 Global Account Manager, Takasago International Corp.
Class of 2005
Lizabeth Burke is currently a global account manager at Takasago. She joined Takasago in 2002 as director of marketing, fine fragrance, and recently transitioned into a commercial role with a focus on a key global account. Her 20 years of professional experience include positions as marketing manager at International Flavors & Fragrances, director of marketing at Mane USA, and marketing manager at Robertet Fragrances, as well as internships in fragrance evaluation, beauty/ health editorial, and beauty retail.
Ms. Burke is a 2005 graduate of the Master of Professional Studies program in Cosmetics and Fragrance Marketing and Management and is also an inaugural graduate of FITís bachelorís degree program in Cosmetics and Fragrance Marketing, where she was the recipient of the Revlon Outstanding Merit Award and the Metropolitan Retail Financial Executives Award of Excellence in the Study of Retailing. She shares her passion for the industry and endorses FITís programs by acting as a mentor in the FIT undergraduate program.
What is your vision of the future of fragrance?
"Fragrance has always been one of the most unique and personal forms of expression. It has the elusive ability to turn heads, evoke emotion, capture a moment, and create a lasting impression. Consumers today are more receptive and accessible than ever before, leaving us a powerful opportunity to engage them in the perfumery process; the precious materials, the passion, and the finesse involved in creating a fragrance. The future of fragrance lies in our ability to celebrate perfumery as an art form, bringing back the romance and making it special once again."