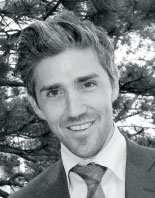 Senior Account Manager, International Flavors & Fragrances
Class of 2002
Olivier Delcour is currently a senior account manager at International Flavors & Fragrances. Prior to joining IFF, he was marketing/new business development manager at Charabot USA. He was also a marketing assistant with Quest International in Paris and an international marketing assistant for the Clarins Fragrance Group, also in Paris.
In addition to being a graduate of the Master of Professional Studies program in Cosmetics and Fragrance Marketing and Management's inaugural class of 2002, Mr. Delcour holds both bachelor's and master's degrees in management science from Dauphine University in Paris. He is fluent in English, Spanish, and French.
What is your vision of the future of fragrance?
"The growing popularity of niche brands, social networking blogs, and recession-proof appeal of higher priced fragrances show a demand for more personalization. But the consumer is more educated than ever and selective in picking the fragrance "of the moment." The price-value equation is at the forefront. Future fragrances will have to deliver a distinct and innovative olfactive signature, end uses reflecting new customer expectations and qualitative packaging to make their marks. We should experience a decline in new market launches that will benefit long-term brand-building and, ultimately, help consumers to get a more pleasurable experience."