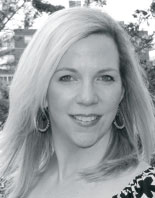 Senior Creative Fragrance Manager, Givaudan
Class of 2005
Since July 2000, Donna Harrington has served Givaudan as creative fragrance manager, where she has managed the development of global fine fragrances for key clients. In 2006, she was promoted to senior creative fragrance manager. Her 14 years of professional experience include fragrance development, marketing, and sales at several fragrance houses across the categories of fine fragrance, personal care, and household products.
In addition to being a 2005 graduate of the Master of Professional Studies program in Cosmetics and Fragrance Marketing and Management, Ms. Harrington is a graduate of the FIT bachelor's degree program in Cosmetics and Fragrance Marketing, where she was the recipient of the New Woman/Annette Green Scholarship Award in 1993. She also holds an Associate in Applied Science, cum laude, in Fashion Buying and Merchandising from FIT.
What is your vision of the future of fragrance?
"To approach the topic of what the future holds for fragrance, we need to acknowledge that with the speed of technology comes a much savvier consumer who is seeking knowledge and authenticity. She wants a fragrance that is relevant to her and her lifestyle, and we must take a disciplined approach to understanding what she truly needs and wants. The answers to the future may lie in the traditions of the past, in the artisanal nature of the craft that tells the authentic story of the rich heritage of perfumery."