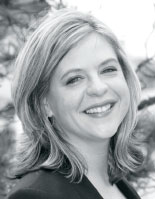 Vice President of Merchandising, Victoria's Secret Beauty
Class of 2005
Leslee King is currently the vice president of merchandising for Victoria's Secret Beauty. She is responsible for leading the development of retail merchandising and education/training strategies that drive sales for the entire beauty portfolio across the fragrance, body care, and color categories. As such, she plays an instrumental role in influencing the product pipeline, POS strategies, and overall customer experience.
Since joining the company in 2000 as assistant manager, Ms. King's roles in the merchandising department have expanded in scope and responsibility until her promotion to vice president in June 2008. Prior to her tenure at Victoria's Secret Beauty, she spent three years at the Estée Lauder Companies, where she rose to the role of sales promotions manager of the Estée Lauder brand in 1998.
In addition to being a 2005 graduate of the Master of Professional Studies program in Cosmetics and Fragrance Marketing and Management, Ms. King holds a Bachelor of Science degree in international business and marketing from New York University's Stern School of Business, where she was a Stern Scholar.
What is your vision of the future of fragrance?
"It's very bright!!!!! We just need to listen to the customer and focus on what she tells us every day when she steps up to the register. She's still very excited about the category, but as we move forward commercial success will be dependent upon higher value perception and more obvious emotional content."