Nose
Job
Ana Palombo Terzi, Cosmetics and Fragrance Marketing and Management '06, makes sense of scents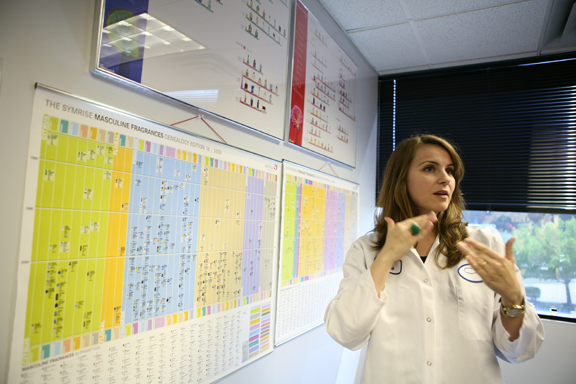 Terzi, in her Coty office, explains fragrance classification and genealogy. All photos: Joanne Chan.

Ana Terzi, senior fragrance evaluator for Coty, works in an office-slash-laboratory on the second floor of the company's Morris Plains, NJ, building, where, by her own lowball estimate, she smells 150 oils, colognes, lipsticks, creams, aftershaves, soaps, powders, and body sprays each day. Coty, a cosmetics and fragrance manufacturer founded in France in 1904, posts about $4 billion in annual profits, 70 percent of it from sales of scented products that range from Chloé perfume to Adidas-branded deodorant. And every one of the thousands developed each year must pass under Terzi's nose before it enters the U.S. marketplace.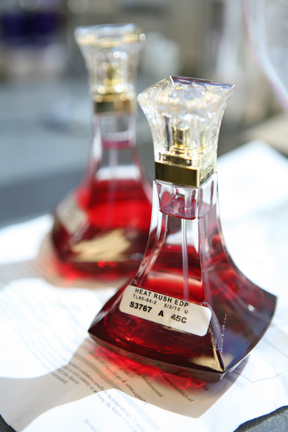 Beyonce's Heat, a Coty perfume.

Terzi smells products after they've been stored in the containers they
will be sold in, to test whether any of the packaging's components, like
the pump's plastic straw and spray head, alter the formula's scent. She smells products after they have been exposed to extreme heat and light,
to be sure that they will remain stable even if shipped or stored in less than ideal conditions. Sometimes, she smells a product for a full week, taking it from the sterility of the lab—where it is customarily sampled on strips of blotting paper—to her home, where she wears it on her wrists or neck, to observe its interactions with her skin chemistry. When smelling several products in quick succession, Terzi will pause between samples
to sniff her sleeve—the olfactory equivalent of a palate cleanser. On especially demanding days, when a sleeve-sniff is not enough, "I'll run
up and down the stairs," she says. "You hyperventilate a bit and your
nose clears up."
*
Terzi calls herself "a fragrance aficionada. … Wherever I go, I'm crushing and smelling leaves, smelling the fruits and vegetables." But she was a few years into her career before she found a professional outlet for her passion. In Brazil, where Terzi was born and raised, she studied pharmaceutical science and biochemistry and spent time developing colors for Faber-Castell's makeup pencils. It wasn't until 2001, after she and her husband moved to New Jersey for his career, that she first began working in fragrances, as a specialty-bath-product developer at Avon.
There, Terzi's bosses arranged for her to study aromas with a perfumer, to train her nose and familiarize her with fragrance development and the field's terminology, which runs the gamut from the scientific to the fanciful—since English is short on olfactory terms, aromas are often described in terms of color, taste, or even touch. Once a week for four years, Terzi would wake up predawn and commute to Manhattan to spend an hour at the perfumer's laboratory, smelling scents and describing them, before returning to New Jersey for her workday. "He didn't want me to name the fragrances' raw materials," she says. "I would have to think up adjectives. So for example if I was smelling cedar wood, I wouldn't say 'cedar wood,' I'd say 'pencil shavings.'" One exercise, Terzi's favorite, the perfumer called Battleship, after the popular board game. She and a fellow student would each be given a set of the same ten fragrances. One would be randomly labeled 1 through 10, the other A through J. After each had smelled her set, they would try to match the fragrances by comparing notes.
In 2003, Terzi joined Coty. The following year, she enrolled in FIT's Cosmetics and Fragrance Marketing and Management Master of Professional Studies program, for a more comprehensive study of the industry. "I had the science background from my undergraduate education and I learned the creative side from the perfumer. I came to FIT to better understand the marketing and the business side of beauty—how a fragrance is marketed and advertised, and what determines the trends."
*
"A good sense of smell is something you can acquire," Terzi says. "It's like learning music. First you learn the notes. Then you learn the accords." Notes, in fragrance-speak, are single aromas: rose, black pepper, kumquat, caramel. Accords are combinations of three or more notes "that blend together to create a new odor identity. A citrus accord can be made with notes of bergamot, grapefruit, and orange, for example." Fragrances are typically described as three successive groups of notes: top, middle, and dry.
In her lab, Terzi stores dozens of tiny vials, each labeled with the raw material or single-note scent it contains. In some instances, she has several variations of the same note. There is a vanilla formulated for colorless products (vanilla normally darkens solutions), French vanilla, vanilla from Madagascar, and so on. She keeps these for reference and study, the better to fine-tune her perception and description of fragrances.
During testing, if Terzi suspects a fragrance is unstable—if it loses potency too quickly or develops an off-note, most commonly a whiff of vinegar, rancidity, or metal—she will solicit the opinion of her director, Laurie Welsh. Each new formula represents substantial investments in research, development, and testing, so, "We never reject on one nose," Welsh says. "I have the unique privilege of smelling only the bad stuff."
*
Despite being one of the largest fragrance manufacturers in business, Coty develops none of its fragrances in house. "Perfumery is very specialized," says Leslie Smith, vice president for research and development. "You have to build a whole infrastructure for it." Perfumers also need to maintain large, costly ingredient inventories. Even if Coty were to invest in an in-house operation, it would be difficult, if not impossible, to match the depth of talent the company can access by working with independent fragrance houses. "If we had a perfumery team," Smith says, "it'd be between five and ten perfumers, whereas we now have access to maybe 100."
Instead, for each new scent the company develops, it creates a brief, a document outlining what Coty is looking for—the product's target audience and brand identity, correlative trends in art and design, even the intended color of the juice, which is how the industry refers to a fragrance's market-ready preparation—but never prescribing specific aromas. "That is sacrilege," Terzi says. "Perfumers are artists. We don't want to intrude on their palette at all." Coty sends its brief to as many as four fragrance houses, which create candidates, in the form of undiluted oils, for consideration. Several weeks later, when the candidates arrive, they are tested by a toxicologist and microbiologist for safety, by consumers for appeal, and by Terzi and Welsh for olfactory stability. If the product is to be released under a celebrity's name—some of Coty's bestsellers are fragrances made for designers like Marc Jacobs, actresses like Halle Berry, and performers like Jennifer Lopez and, beginning in 2012, Lady Gaga—the viable candidates are submitted to him or her, for feedback and for final say. "They are highly involved in the development process," Terzi says.
Invariably, this process results in leftovers. Often, the reason a candidate is set aside has nothing to do with its quality. Sometimes it scores high in consumer testing but the celebrity preferred another. "Angel by Thierry Mugler has a praline note that was polarizing," Terzi says. "But Thierry insisted on it. It reminded him of his childhood. And it ended up selling phenomenally." Sometimes the intended product is canceled for business reasons, which strands even the chosen fragrance.
To Leslie Smith, it seemed a waste to discard these orphaned candidates, especially since Coty periodically creates and rolls out a product within a contracted timeframe, maybe six months instead of the usual year, and testing a new fragrance can eat up three months or more. So in 2005, he asked Terzi to create and maintain an internal library, a collection of the fragrance houses' best-testing unused oils that she can choose from to submit to marketing for time-sensitive projects.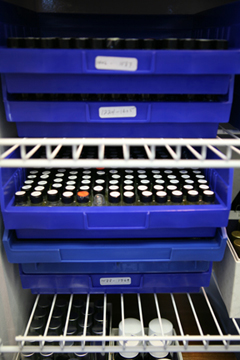 In Terzi's fridge? Hundreds of scents.

The library's catalogue exists as a searchable database on Coty's internal website, each fragrance's entry listing its initial purpose, house of origin, date of creation, consumer test score, and use level—the amount of oil to be used when mixing the solution. It also includes an open field, where Terzi suggests potential applications and discusses the concept, and a rundown of the top, middle, and dry notes. Writing this last bit is Terzi's favorite part of the job. She enjoys the challenge of crafting a succinct, memorable description: "I get to sit and smell and daydream." In her spare time, she freelances for Brandchannel.com, writing about the industry's trends and branding. "English is the best language in the world," she says. "It's so malleable."
The library's archives, roughly 120 half-ounce glass bottles of oils, are stored in two refrigerators in Terzi's office, where they share space with more than 2,000 quarter-ounce samples of every Coty fragrance on the U.S. market, kept on hand for further testing should any consumer or production problems arise. Every year, she reviews the selection to make sure it covers a broad range and to pull anything over four years old. "It's not that the older ones have gone bad, but the marketers will not like to see that a candidate is from 2005. The trends have moved on."
To date, Coty has made use of 40 entries from Terzi's library. About 100 more have aged into obsolescence, unavoidable losses in an industry governed by ever-changing moods and tastes. But they didn't go unloved. Terzi recalls one in particular, "a beautiful, sparkling, clean, abstract floral" she submitted for several projects before its sell-date passed.
"I still have a pump of it in the fridge," she says. "For my own delight."