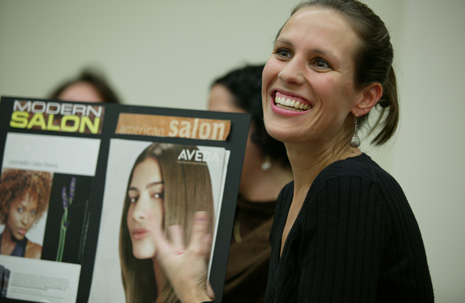 A think tank of innovative leadership
The Master of Professional Studies (MPS) in Cosmetics and Fragrance Marketing and Management provides advanced education for outstanding mid-level professionals in the cosmetics and fragrance industries. The program was developed in collaboration with leading multinational corporations in the industry to prepare students for senior management positions.
This two-year program is designed for individuals working in cosmetics, fragrances, and related areas who have been recommended by their employers because of their strong management potential. In this program, you'll master the core skills of a business degree along with the creative and technical skills specific to the cosmetics and fragrance fields.
In courses taught by a faculty of practicing professionals, you'll study brand and product development, consumer behavior, corporate finance, and leadership, as well as the development of innovation in the beauty industry. The program's global component includes two overseas field study courses, which take you to Europe and Asia to meet with industry leaders. In your final year, a capstone seminar provides the opportunity to work in a team to solve a complex industry problem and present your results to a panel of faculty and industry experts. You'll graduate prepared to fulfill your goals and recognized potential in high-level management.
Highlights
FIT's Master of Professional Studies (MPS) in Cosmetics and Fragrance Marketing and Management is the only program of its kind in the United States, with product development courses held in the only working fragrance laboratory on a U.S. college campus.
The program's prestigious Industry Advisory Board includes senior executives, consultants, media experts, leading research and industry analysts, and heads of industry associations.
Students have extensive interaction with industry professionals who serve as guest lecturers and instructors.
Capstone projects have been sponsored by such leading companies in the beauty business as Procter & Gamble, L'Oréal, The Estée Lauder Companies, LVMH, and Johnson & Johnson.
Conferences, master classes, and an Executive Mentor program reinforce strong industry connections.