Erik Kneubuehl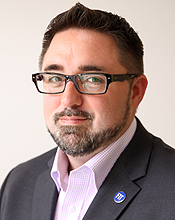 Mr. Erik Kneubuehl is assistant vice president/dean of students in the division of enrollment management and student success. He is responsible for overseeing the offices of Student Life, Counseling, Residential Life, Health Services, Athletics and Recreation, Educational Opportunity Programs (EOP), and FIT-ABLE (disability services).
Previously, Mr. Kneubuehl was dean of students at SUNY Maritime College, where he also served as executive director of the National Institute for Leadership and Ethics and as chief student affairs officer for such areas as campus ministries, the learning assistance center, academic advising, health services, the EOP programs, residence life, and student activities. He was instrumental in redesigning the academic advising program, the first-year transition courses, and a campus-wide judicial code of conduct.
With over 15 years' experience as a student affairs professional, Mr. Kneubuehl has expertise in a wide range of areas, including program development, academic advising, leadership and diversity training, student events and activities, residential life, budgeting, and management. He has worked in diverse settings, ranging from Newberry College, a small, private Lutheran college in South Carolina, to Florida Atlantic University, a large public institution in Boca Raton. At Virginia Polytechnic Institute and State University, a public research university with 30,000 students, he rose to the position of associate director of University Unions & Student Activities.
Mr. Kneubuehl serves on the Student Affairs Administrators in Higher Education (NASPA) Public Policy Division and is a member of its Region II Leadership Team. He is also a member, and past executive board member, of the SUNY Council of Chief Student Affairs Officers and the National Association of College Unions-International (ACUI).
Mr. Kneubuehl earned his B.A. in history from Florida Atlantic University and his M.Ed. in higher education administration from the University of South Carolina. He is currently completing his doctorate in organizational leadership from Northeastern University.