Leslee Carlson Breene, Fashion Illustration and Advertising Design '65
In the forthcoming Starlight Rescue (Treble Heart, 2011), the fourth and latest romance novel by Leslee Breene, Wyoming veterinarian Kimberly Dorn fights to keep her rescue ranch from land developers. Gabe Trent, an adventurous wildlife filmmaker, offers her an opportunity to film her rescue animals for a television documentary. She accepts, and things heat up in all directions. But when the film shoot goes awry, Kimberly wonders: if she can't trust Gabe with her rescue animals, how can she trust him with her heart?
Below, Hue presents an excerpt from Starlight Rescue, a "character scene," Breene says, revealing the troubled past of protagonist Kimberly. For more information on the book and Breene's other works, visit lesleebreene.com.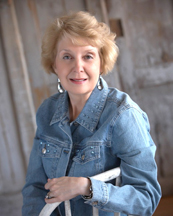 In the distance, the lake sparkled in the afternoon sun. The temptation of escaping to its banks, taking off her sandals and dangling her bare feet into the cool water, was compelling.
Approaching the lake, Kimberly moved between ponderosa pine and down the slight slope to the vacant shore. She removed her hot sandals and walked further, squishing her toes into the grainy sand. Then she plopped down into a heap, staring out over the water. A pair of flickers swooped low over the dock, disappearing into a stand of cottonwood off to her right. 
As if compelled, she rose, slid back into her sandals, and walked over to the dock. Though its surface was chipped and peeling after years of disuse, the dock still brought back memories of family picnics and boat rides in the happier times of her childhood, when the Dorns were still together as a family. When three sisters scampered playfully up and down the sturdy boards. Before her dad had left them.
Kimberly stepped up on the dock and ventured over the worn boards, remembering. "Come on, Dad," her younger sister Andrea would call when he took them out fishing. "Promise you'll let me row the boat first."
Many were the times she'd argued with Andy over the rowing and who would be first to catch a fish. Mom had always stayed behind on the beach with little Pam, too young to go fishing with the big girls.
She neared the end of the dock, a sudden heaviness in the pit of her stomach like a weighted rock pulling her downward. Pammy. Shivering in the warm sunlight, she grasped her elbows, holding them tight, and stared soberly out beyond the water's calm surface.
I'm so sorry ... I couldn't save you. She clamped her eyes shut.
The rain had come up so fast that day, waves rolling against their boat.
It was all my fault. She forced her eyes open. Why had she come out here? Nothing had changed. This was no peaceful sanctuary and never would be.
Panic clutched at her insides, revived from memories she had successfully buried for some time. They threatened to take away all her hard efforts to disallow, to overcome. Tearing herself away, Kimberly ran back over the long untrodden dock to shore.