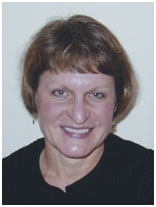 sandra_krasovec@fitnyc.edu
Department:
  Packaging Design
Initiative:
  Sustainability in Packaging Design
"I look to the The Earth Charter for my definition of sustainability, which is providing a global partnership for peace, environmental protection, human rights, and equitable human development interdependently and indivisibly." - SK 
How would you categorize your initiative?
Our sustainability initiative in the Packaging Design department impacts new courses, existing courses and modules, teaching materials, student design projects, lifestyle and social responsibility. These initiatives have been incorporated within the last 5 years.
Please describe your activity and its relevance to sustainability in the curriculum.
Within the Packaging Design Department, we as faculty have been integrating sustainable best practices within our design discipline as well as instilling the idea as a lifestyle with conscious decisions during the design process, purchasing, waste disposal and recycling, etc. We have purposely revised the curriculum to integrate sustainability into interdisciplinary projects, and our students have become much more active in the sustainability movement across campus. Two of our students were elected to the FITSA committee that was prompted by President Brown and the participation in the Clinton Global Initiative University.
Briefly describe your experience implementing your activity.
Looking at environmental, social and economic demands, sustainability is huge with so many overarching issues. The best way to introduce it in our discipline is by small steps and considerations of more efficient design and use of materials. Life Cycle Analysis is being introduced slowly so sustainability is considered in every step of the design process. Students are eager to learn and are very creative in applying it to their projects.
Do you anticipate any next steps in your sustainability initiative?
The major next step is to continue to integrate sustainable best practices into all of our curriculum as part of the design process and as a social responsibility so students and faculty can continue to make small steps toward a healthier planet. We constantly revise our program curriculum in order to have a greater impact. The department is currently working on the development of a credit certificate in sustainable packaging design.
Based on your experience, do you have any suggestions or advice you might give to other faculty interested in incorporating sustainability into the curriculum?
It is important to define sustainability, since most students don't know what it means and how it affects what they do in their own discipline. Start small and continue to integrate sustainable best practices into the curriculum and get it ingrained in the students' psyche that it is a lifestyle necessity at this point and that we need to do something now.
Does your initiative have applicability to other curricular or program areas?
Yes, the definition of sustainability should be introduced to all programs/departments so the FIT community is all on the same page. Sustainability should be a lifestyle and considered in everything we all do on a day-to-day basis when we think about what we purchase, consume and throw away, and how we practice our design disciplines.
Do you have anything else to add?
Just start! Introduce sustainability into your courses and make it part of everything that is considered when designing anything. Smart design should be sustainable anyway. Soon there will be a tipping point and sustainability won't be a buzz word anymore; it will be an essential philosophy of what we do all the time.
I am looking forward to seeing what others in the FIT community are doing, I think a lot of us are integrating sustainability into our programs, but it isn't promoted so we need more communication about what happens in the classroom and around campus.