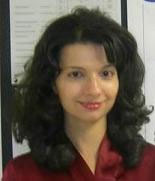 shireen_musa@fitnyc.edu
Department:
  International Trade and Marketing
Initiative:
  course creation and revision, student project, conference presentations
"Sustainability is society's environmental, economic and social mindful evolution." - SM 
How would you categorize your initiative?
My initiative falls under multiple categories, such as a new course, the revision of an existing course, a module within a course, student projects and conferences
Please describe your activity and its relevance to sustainability in the curriculum.
I am teaching the course, IN342 International Corporate Responsibility, and have developed a new online section of the course. I serve on the President's Sustainability Council and function as a member of the Sustainability Council's Grants Review Committee.
In addition, I have presented at industry conferences, including the Organization of Women in International Trade's (OWIT) 2008 World Conference "Trade and the Triple Bottom Line: Societal, Economic and Environmental Sustainability" in Monterrey, Mexico. I have also presented at FIT's 2009 Annual Sustainable Business & Design Conference, "Putting Sustainability into Action" where I moderated a panel discussion on the "Effects of Global Warming on India's Economy" at FIT's 2009 India Economic Forum. I have also represented FIT during the Market Place Breakout Session at the "2009 Green America Business Conference" in San Francisco, California.
Do you anticipate any next steps in your sustainability initiative? 
I plan to continue updating my course and creating interesting projects for my students. I anticipate increasing my faculty development in the area of sustainability and supporting FIT's Sustainability Council.
Based on your experience, do you have any suggestions or advice you might give to other faculty interested in incorporating sustainability into the curriculum?
There is a lot of information relating to sustainability that can be researched. I suggest that faculty find areas of interest and incorporate those items into their class curriculum.
Does your initiative have applicability to other curricular or program areas?
Yes, I believe that IN342 International Corporate Responsibility can be taken as an elective by any FIT student across all degree programs. Also, my role on the Sustainability Council supports all FIT faculty, students and staff.