Accessories Design BFA student Rachel Fishbein has been named FN Shoe Star 2011 after competing in Footwear News' second Shoe Star competition at FIT, sponsored by Brown Shoe, for BFA Accessories Design students. The winner was announced June 7 at the annual FFANY Industry Party at Bryant Park Grill. She receives a paid job with Brown Shoe Company.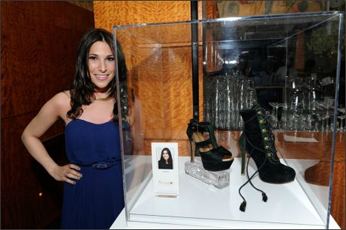 The competition was announced at a kick-off event on September 21, 2010. Contestants presented submissions created during the fall semester to FN judges in late fall and 12 finalists were selected. On February 1, at a special event in the Katie Murphy Amphitheatre, the six finalists were announced.
Hyojin Choi (Hometown: Seongnam-si, Grenoggi-do, South Korea)
Matthew Ciszek (Hometown: New Providence, NJ)
Rachel Fishbein (Hometown: Lafayette, CA)
Keena Fleming (Hometown: St Croix, Virgin Islands)
Maggie Kervick (Hometown: Ocean, NJ)
Shannon Ramiza (Hometown: Cortland, NY)
They took part in a series of five design challenges during the spring 2011 semester. FN covered the competition online and in its print publication, and a dedicated FNShoeStar.com website broadcast weekly coverage, along with other interactive content and social media.