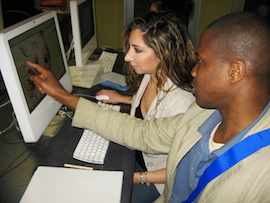 Walk-In Schedule for Summer I, 2015
To attend a walk-in:
go to the designated room during the scheduled time
write the course number, your name, and student ID number on the sign in sheet
if the walk-in is busy, you may be limited to 20 minutes with a tutor; you may wait for the tutor to become available again
Please keep in mind that the tutor is there to guide you and explain information you have questions about. It is not the tutor's job to make sure you finish your project/work on time or to teach you something you have not already gone over in class.
If you need more time with a tutor, make an individual appointment with them at fit.mywconline.com. During Summer and Winter Sessions, appointments must be made at least 24 hours in advance. During the Fall and Spring Semesters, appointments must be made at least 48 hours in advance. If canceling a session, you must cancel 24 hours in advance by calling 212-217-4080 or it will count as an absence . Students are allowed one absence per semester/session.
---
WALK-IN SCHEDULE for SUMMER I 2015

***Summer Walk-Ins end on Monday, June 29th, but you can still schedule individual appointments.***

Call the Academic Skills Tutoring Center at 212-217-4080 if you have any questions.


DRAPING/SEWING/PATTERN_MAKING FOR FASHION DESIGN
Location: Feldman Center, Room C720
Days/Times:Mondays through Wednesdays: 12:30-2:30


MANUFACTURING MANAGEMENT COURSES
(MG153, MG306)
Location: David Dubinsky Student Center, Room A608B
Days/Times: Tuesdays and Thursdays: 12:00-2:00

MATH/ECONOMICS/SCIENCE
Location: David Dubinsky Student Center, Room A608B
Days/Times:
Monday 12:00-2:00 Math (most), Economics (SS141,242,443)
Tuesday 12:00-2:00 Math (most), Economics (All), Science (111,121, 122,253)
Wednesday 12:00-2:00 Math (most), Economics (SS414,242,443), Science (111,121,1,253)
Thursday 12:00-2:00 Math (most), Economics (All), Science (SC111,121,122,253)
For Fall and Spring Semesters Only see Computer Walk-Ins below
Software: See the list below for software tutoring on specific days/times
_______________________________________________________________________________________