Opportunistic Play
LTL Architects Win FIT's 2010 Lawrence Israel Interior Design Award
By Kathleen A. Kelly
With simple materials and innovative lighting, architecture firm
Lewis Tsurumaki Lewis
transforms difficult sites in ways "that delight both the senses and the mind." That, coupled with a history of "bucking the trend toward scale-lessness" by restoring a human dimension to architecture and interior design, makes LTL, winners of the 2010 FIT Lawrence Israel Interior Design Award, an excellent role model for students, says Assistant Professor Johannes Knoops, award committee chairman.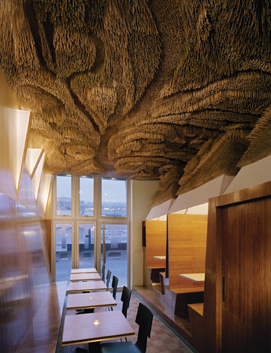 Tides (now closed). Photo: Michael Moran.
In a talk titled "Opportunistic Play," founding partners Paul Lewis, Mark Toshimura, and David Lewis reviewed 12 recent projects, ranging from a memorial wall for a Sloan-Kettering lobby to a combined residence, office, and parking garage designed for the 2004 Venice Biennale. In each they demonstrated how they transform the constraints of a site into a catalyst for the entire design.
Consider Tides, a Manhattan seafood restaurant with a claustrophobically narrow footplate and an uncomfortably high ceiling. LTL did the interior walls and seating in bamboo, and covered the ceiling with acoustical tiles into which they inserted 110,000 wooden food-prep skewers of varying lengths and coloration. The result? A sculptural effect suggestive of swirling sea grasses, vastly improved sound levels, and a problem converted into an aesthetically pleasing focal point (see left).
The challenge in a barnlike 25,000-square-foot buffet for the Las Vegas City Center was to provide access to food stations as well as a congenial atmosphere for up to 600 diners at a time. Since one side was adjacent to an outdoor pool, LTL used a glass wall to let in natural light. They placed food-service stations along the periphery, and dropped the ceiling over the dining area, which they defined with a series of low banquettes that shape four comfortably intimate dining spaces. Standing, diners can see the pool and easily locate every cuisine at the buffet; seated, they are in an elegant restaurant open to a "sky" created by backlit LEDs placed in the expansive ceiling.
The constraints in LTL's ongoing conversion of a downtown Austin, TX, building into an arts center were a tight budget and a windowless "Russian dolls" interior, based on the site's previous uses as a theater, a department store, and a gallery. LTL retained much of the existing construction, but created an outdoor rooftop screening area, extending its deck materials to an interior staircase. To let in light, they inserted narrow, framed glass units along one wall, aggregating them in the office and studio space. Because the glass protrudes to the outside, the play of sunlight, and, at night, computer-driven LEDs, will create inviting patterns on the pavement.
LTL's vision for adapting New York harbor to rising sea levels (a result of global warming) is on view through October as part of the
Rising Currents
exhibit at MoMA. Designing for environmental sustainability is nothing new for LTL. "It's built into every project," says David Lewis. "Sustainability is just the application of good design principles that have been forgotten for the past 100 years."