FMM ALUMNI SPRING '15 NETWORKING EVENT
WAS HELD THURSDAY, APRIL 23, 2015
GUEST SPEAKER: MARIE DRISCOLL, CFA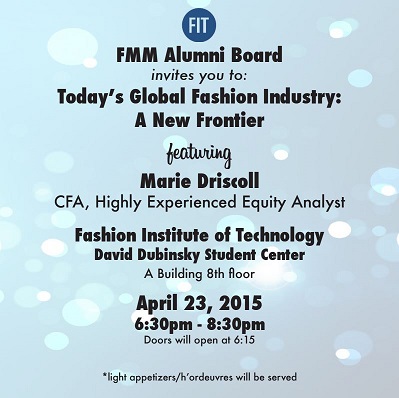 FMMCONNECT WINTER EVENT HELD DECEMBER 6TH
On December 6th, a group of about 30 FMM Alumni were joined by several current FMM faculty members at FASHION 40 on Seventh Avenue for an evening of networking and reconnecting. The alumni chatted about their current positions as merchandisers, allocators, sales reps and product developers at companies such as Macy's.com, Saks Fifth Avenue, Juicy Couture and Stephen Webster. Watch here, on Facebook and on LinkedIn for an announcement about another FMMConnect event in February!
Enjoy photos from FMMConnect: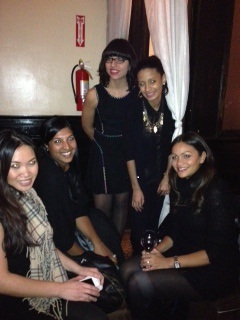 FMMCONNECT SUMMER EVENT
WITH ROSS STORES
Our summer FMMConnect event was extra special this time, as we joined with executives and recruiters from Ross Stores on Wednesday, August 1st. FMM Alumni had the opportunity to meet these Ross employees and discuss buying and planning opportunities at our old stomping ground, Stitch, in the Garment District. Feedback from attending alumni and the Ross team was very positive, and we are looking to host another event like this in the fall. Stay tuned!!
FIT FMM ALUMNI CONNECTIONS
FMM is launching a new network to connect students and alumni. The department has built a network of graduates that is available to you! Are you looking for a job in a specific field or company? Reach out to us and we can hopefully connect you with a FMM graduate in the field or company to answer your questions. It's easy - all you need to do is email FMMCONNECT@gmail.com with any questions and we will be happy to let you know if we can help you. Remember: you must be a member of the FMM Alumni Association to participate. Membership is free!
We are pleased to invite you to join our LinkedIn network. LinkedIn is the world's largest professional networking site. Our group members include FMM alumni, faculty, graduating seniors, and executive recruiters. We'd like you to join since you are a member of this growing community, and in doing so, you'll be connected to everyone else affiliated with the FMM network. You can leverage that connection in your job search, learn more about FMM activities, and communicate with other members in our group.