TWO CAREER FAIRS SCHEDULED FOR OCTOBER 20, 2015


The Career Fair at FIT will bring together companies looking for interns, sales associates for the holidays and graduating students in search of a full-time position (December and May graduates). Students should bring copies of their resume, prepare their elevator speech and see who recruits from the Fashion Institute of Technology. Students should expect to meet some alumni on site to represent the companies where they are employed. More details to come!
The NRF VIRTUAL Career Fair is open to all students. This requires some planning! Students will be required to submit their resume, in advance, to the NRF portal where companies looking to recruit will have access. Each company will reach out to candidates they would like to interview to set up a time for the virtual interview to take place! More details to come!
FMM GRADUATE IS TOP RECIPIENT OF 2014 RAY GREENLY SCHOLARSHIP

Congratulations to Evan Chisholm, 2014 winner of the $25,000 Ray Greenly Scholarship. Evan graduated from the one-year Fashion Merchandising Management program in December 2014. Prior to attending FIT, Evan completed a BS degree and founded a menswear company catering to hip-hop street wear and contemporary fashion. Evan plans to use his scholarship to complete the Athletic Footwear Design Certificate at FIT.

Meet Evan and the other scholarship recipients:
FMM STUDENT BLOGS ON ATTENDING NRF BIG SHOW
May Hein, a FIT student completing her AAS in Fashion Merchandising Management, blogs about her experience as a Millenial at NRF's Retail Big Show held in January, 2015. May has been accepted in the IFMM program next year in Florence at Polimoda. Read May's blog post.

FMM INSTRUCTOR FEATURED IN AMERICAN EXPRESS COMMERCIAL AND NY DAILY NEWS ARTICLE

Ann Cantrell, FMM Instructor and owner of Annie's Blue Ribbon General Store in Brooklyn, was interviewed in the NY Daily News. She discussed the importance of Small Business Saturday, a program developed and promoted by American Express. Read the article.
FMM ASSOCIATE PROFESSOR INTERVIEWED IN NY TIMES ARTICLE

Shawn Grain Carter was quoted in the Sunday, August 31, 2014 edition of the New York Times Business section. Professor Grain Carter commented on the use of Tyvek, by designers today, in shoes, handbags, and other accessories. Read No Canvas, No Leather: A Reboot for the Sneaker.
MERCHANDISING SOCIETY HONORED AS CLUB OF THE YEAR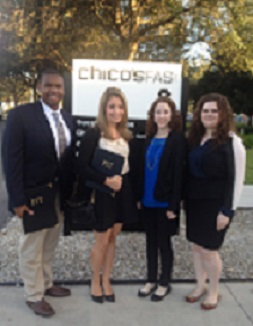 This year, at the annual FIT Student Association recognition dinner, the MERCHANDISING SOCIETY was honored as the FIT student club of the year. The MERCHANDISING SOCIETY is the oldest student club on campus (founded in 1961) and is also the largest. In addition, the club's president, Marvin Sanford was recognized as the president of the year. Pictured above is the Executive Board.

FIT PARTICIPATES AND WINS WORLD RETAIL CONGRESS COMPETITION

Four FIT students participated in the World Retail Congress Competition held in Paris from October 7th- 9th. The students: Alexis Katsafanas (FMM), Jaime Duncan (FMM), Eleanor Arye (AMC) and Wen Jenny Zhao (TDM) presented their idea to take the retailer STORY and expand it to Paris and other cities around the world. Theirs was the winning presentation! Congratulations! The team was accompanied by FMM Chair, Robin Sackin.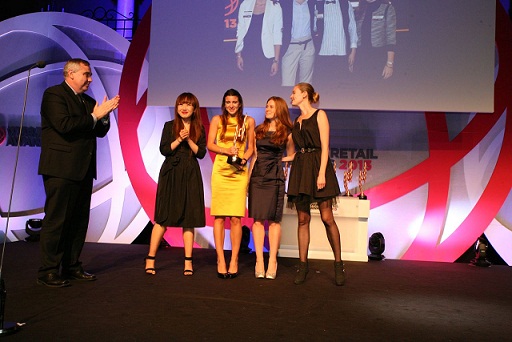 Students receive the award from WRC in Paris on October 9, 2013.
FMM 225 STUDENTS VISIT MARKET

In the FMM 225 Fashion Merchandising course, students go to the market on an actual buying trip. They experience what it is like to visit a showroom and view a line of merchandise for the upcoming season. The students pick what they think is the correct merchandise for their stores. After the visit, the students plan, distribute the goods to the stores, and merchandise the fixtures in each store. This hands-on experience really shows students buying/planning and merchandising. Below are photos of Professor Catherine Geib's class visiting ECO Swim.
| | |
| --- | --- |
| | |
Senior FMM Fashion Merchandise Management Student Team Wins $6000 Prize from White House Black Market

This Spring, White House Black Market, a Division of Chico's FAS sponsored The Capstone Course FM422 Merchandise Strategies. Each student team in the course had to create a new, innovative, financially relevant merchandise strategy for The White House Black Market retailer. Approximately 65 teams participated. In March, the WHBM Executive Board visited FIT from Ft. Meyers Florida and spoke to 275 students in the capstone class on The Mission and Vision of the WHBM Brand. This important meeting gave the students real working insight to the company and its specific target customer.

Every team had the opportunity to create a strategy and present it to the class . The best strategies were submitted to Chico's for final judging, The winning team (shown in the photo below) created a new strategy to better create and promote their highly penetrated pant program. Donna Noce president of WHBM loved the strategy so much that she is adapting parts into the pant program and she hired Kelsi Clark to help implement it. Great work Fashion Merchandising students!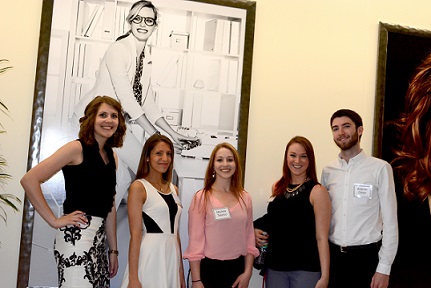 FMM422 Winning Team: Kelsi Clark, Caitlin Jascewsky, Michelle Talarico, Bianca Tirelli, Andrew Orner and Deanna Shea (not shown).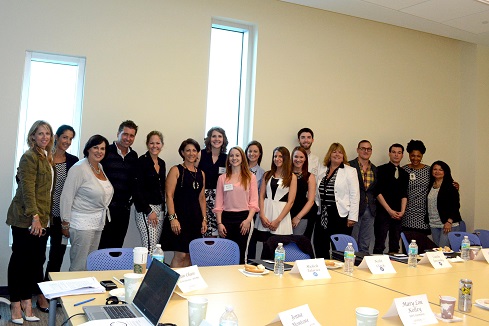 FMM422 Winning Team with White House Black Market executive team and Professor Catherine Geib.
EARN A CERTIFICATE IN RETAIL MANAGEMENT!

The certificate is intended to develop the skills and abilities of professionals who are currently employed in mid-tier positions in retail management or who possess a baccalaureate degree in a discipline unrelated to Fashion Merchandising Management.

FIT's certificate program in Retail Management, developed in partnership with the National Retail Federation (NRF), addresses general analytical and problem solving abilities as well as industry requirements and essential specifications to manage retail operations both here and abroad. In addition, a mastery of foundational skills in Microsoft Excel, retail merchandising, and management skills will be provided.

The program includes five courses to complete over three semesters. Two certification exams are also offered: MS Office Excel (Level 1) and the NRF's National Professional Certification in Retail Management.

Read more or apply for the certificate program.