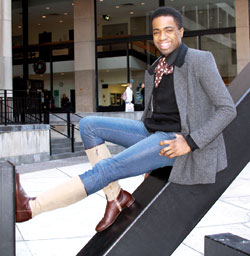 A perfect way for Zadrian Smith '11 to measure his fast-paced career at FIT would be in terms of doors. Open doors.
The Georgia-born Advertising and Marketing Communications major has come a remarkably long way in a short time–tirelessly opening doors to move closer to his dream of becoming a fashion broadcast journalist. As an FIT Presidential Scholars honors program student, Baker Scholar, Phi Theta Kappa scholarship winner, and recipient of a Black Retail Action Group scholarship sponsored by Bloomingdale's, Smith is determined to seize every opportunity.
He pried open one important door in February when, waiting in line for a Fashion Week show, he recognized Fern Mallis, senior vice president of IMG Fashion. He introduced himself as an FIT student and president and news correspondent at WFIT, the college's radio and TV station, and asked for a press pass to Fall Fashion Week. It was granted, and this fall, he reported to the FIT community on some 15 shows, interviewing such alumni stars as Nina Garcia '93, Nanette Lepore '83, Dennis Basso '73, and Miguel Antoinne '06.
One door Smith opened stands outside the office of FIT President Joyce F. Brown. He entered it to ask for the chance to cover the World Retail Congress in Barcelona, Spain, where an FIT team would enter a competition for a new retail concept. Encouraged by Robin Sackin, acting dean of the Jay and Patty Baker School of Business and Technology, Smith went to Dr. Brown. The trip was arranged. Smith and his fellow WFIT staffer were the only broadcast journalists at the event and their reports appeared on the World Retail Congress website.
Studying at FIT fulfills one of the two goals Smith set for himself when he decided to study fashion communication: 1) attend the "best college for fashion," and 2) become a fashion broadcast journalist "who can take the profession to a whole new level."
FIT fills the bill, he says. "The college creates so many opportunities for students. Its connections with industry are amazing. Our professors and alumni are from industry. Every department has an industry advisory board. And the FIT name is so well respected in the industry that it gives you instant credibility."
Smith benefits as a member of the elite student group of FIT Baker Scholars. The group includes 40 recipients of scholarships that are awarded annually, thanks to a $2 million endowment from Patty and Jay Baker. "Being a Baker Scholar not only eases the financial stress of being a college student in New York City, it makes me a part of a group of individuals who are as passionate and determined as I am to succeed in their careers," Smith says.
Another opportunity came with his acceptance to the Presidential Scholars honors program, which draws on the intellectual and cultural resources of New York City to nurture academically gifted students, offering creative instruction and educational enhancements such as honors courses, colloquia, and arts performances. FIT's current group of 155 Presidential Scholars provides Smith with another networking opportunity and the support of like-minded future professionals, he says.
A huge benefit of being in the program, Smith says, is having the ear of Honors Coordinator Irene Buchman, who "guides us and listens to us, and gives unbiased advice." Dr. Buchman calls Smith "an ideal student to benefit from this unique program." Smith adds: "It's another reason I'm glad I chose FIT."