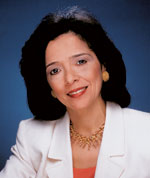 Welcome to Momentum, the new publication created for FIT friends and supporters, such as you. In fact, it is thanks to you that we selected the publication's name—for it symbolizes FIT's remarkable growth and progress over the past decade. None of this would have been possible without your generosity.
As friends of the college, you understand why public colleges—such as FIT— increasingly depend on private dollars for support. And as friends of the college, you have demonstrated your faith in the unique educational opportunities we offer to class after class of talented, ambitious students, many of whom go on to become industry stars and stalwarts. In this publication, we hope to share stories that illustrate the importance of your gifts— stories about students, faculty, and programs that have been your beneficiaries, stories about donors (perhaps you), and special fund-raising initiatives.
We hope that through Momentum you will see how profoundly important you are to us and that you will continue to be part of FIT's exciting and ongoing momentum.
—Dr. Joyce F. Brown