First
Takes
PORTRAITS OF YOUNG ALUMNI AT WORK
Photos by NICK PARISSE '09 

Your first job after college might not be permanent, but it is almost always memorable. You walk in, get an assignment, pick up your tools…and suddenly, you're not a student anymore. This past summer, we assigned Nick Parisse, winner of the 2009 Photography and the Digital Image Departmental Award, to shoot six recent graduates of different majors who are just getting started in their careers. (Parisse added a self-portrait, becoming the seventh.) We also interviewed them about their jobs, which run the gamut from titled positions in major firms to freelance and volunteer gigs. The result? A snapshot of young FIT alumni who are shaping their industries, and a glimpse of a new generation doing something very old: going to work.
---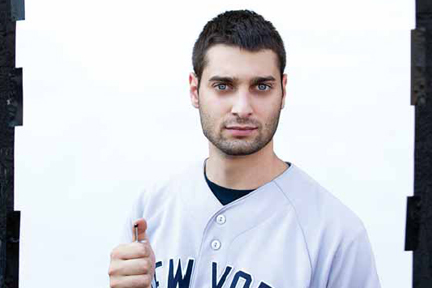 NICK PARISSE
PHOTOGRAPHY AND THE DIGITAL IMAGE '09
Freelance photographer, nickparisse.com  
GROWING UP, I WANTED TO BE… I always knew I'd be an artist. But I can't paint, so I became a photographer. Starting at 14, I always had a camera in my hand. At my mom's place upstate there are duffle bags full of film. I photographed everything, but I'm really a portrait guy. I love people.
FAVORITE TOOL: My Polaroid 600 SE camera. It was a gift from a photographer I worked for. Fuji makes film for it. I'm completely colorblind and for some reason, when I look at a Polaroid, it feels like the only time I can really see what color is.
PREDICTIONS FOR THE FIELD: Photographers getting more into video—filming photo shoots, then pulling a frame here, a frame there, and submitting that to editors. The resolution's already good enough on some cameras.
IF I WASN'T DOING THIS, I'D BE… in Vegas, playing professional poker. I like being able to control the situation and dictate the pace at the table.
---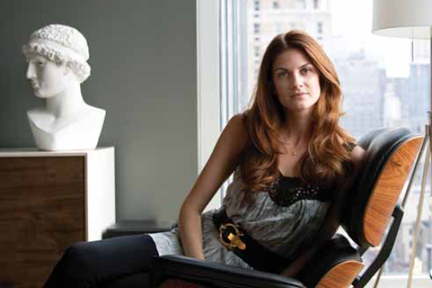 MACALL DENNIS
INTERIOR DESIGN '09
Assistant designer, Liz Whall Interior Design  
GROWING UP, I WANTED TO BE… an archeologist. I used to dig up my parents' backyard.
WORKSPACE(S): It's just Liz—my boss—and me. Her office is in Darien, CT. I commute half the week and stay in the city the other half to meet with clients and contractors, or research and shop for furniture.
CLIENTS' SPACES: Mostly brownstones or penthouses in Manhattan and homes in Connecticut. I love being on site, going over drawings with the carpenters and plumbers and electricians. We just finished renovating a bathroom on the Upper West Side. We're also doing a lake house outside of Toronto. We make the trip when we can. It's gorgeous.
INSIDER TIPS: I like Todd Hase for modern furniture. 1stdibs [a website selling furniture and lighting] is unbelievable.
PREDICTIONS FOR THE FIELD: People are moving toward a more minimal lifestyle. It seems more comfortable having a simple space that's rich and full of character rather than just packed full of stuff.
---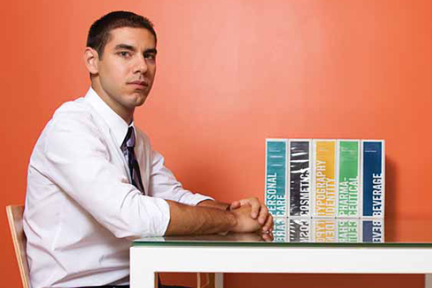 JOE ROSA
PACKAGING DESIGN '06
Senior designer, Anthem Worldwide;
cofounder, Treehouse Design Studio, LLC  
CLIENTELE: Unilever, Pepsi, Procter & Gamble, Benjamin Moore, Pepperidge Farm, Nestlé.... The great thing about designing for big brands is you can go around the country, even the world, and see your work in stores and in people's homes.
TRICK OF THE TRADE: We'll present designs in "shelf sets," so clients can see how they'll look against the competition on the shelf.
WHAT'S SURPRISED YOU ABOUT THE FIELD? How small it is. Everybody knows everyone.
IN TEN YEARS, I'LL BE… I'll be in this industry a long time. Eventually I want to teach. I'd like to develop my own brands. My friend and I have a design company on the side. We did the layout and branding for a new fast-food chain, Press. They've just opened their second location. It's fulfilling to develop something from nothing and see it through to fruition.
---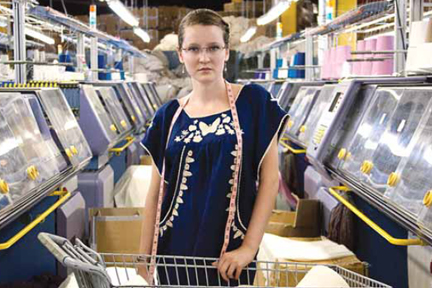 LEXI TOWNSEND
FASHION DESIGN '09
Assistant designer, Creative Worldwide  
WORKSPACE(S): It's a knitwear company in Queens. We make lines for stores like Nordstrom, Target, Forever 21…. My office is attached to the seamstresses' room, where they make samples and small orders. There's a factory nearby for big orders.
DUTIES: I focus on the junior market. I'll research what's selling and create variations on that trend. I'm also kind of the fit model. I try things on and tell the head designer what I think, whether we should use that neckline or those sleeves.
IF I WASN'T DOING THIS, I'D BE… a dolphin trainer. My dad's in Florida, and I was always like, "Get me in at Sea World."
PREDICTIONS FOR THE FIELD: Hopefully more manufacturing here. Nothing against other countries, but what about creating jobs in the U.S., you know?
IN TEN YEARS, I'LL BE… I'd like to be a mom. I would love to have a boutique. I'm always going to design, even if it's just for the PTA, designing for the kids' plays or whatever.
---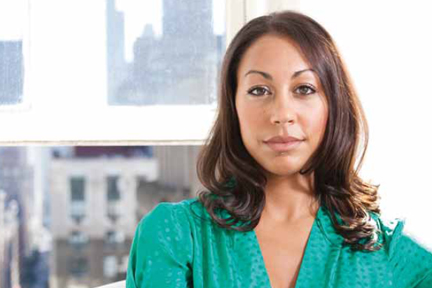 ASHLI HAMILTON
ADVERTISING AND MARKETING COMMUNICATIONS '07
Events assistant, Cosmetic Executive Women, a nonprofit organization supporting women in the beauty industry  
GROWING UP, I WANTED TO BE… I wanted to go into medicine. Then I started watching the Style Network. I went to [FIT's Precollege Program] Summer Live and afterward I was like, "I have to go to FIT."
UNEXPECTEDLY USEFUL SKILL: Because I worked with design programs in college, I end up creating a lot of collateral, like posters and invitations.
PERKS: All of our events have gift bags with lots of products, and I'm always psyched to test whatever's new.
BEAUTY'S NEXT BIG THING: Nutraceuticals. They're ingestibles, like pills for skincare or to help your hair grow.
COMMUTE: I live in Westchester County, so it's about an hour. Each year there are a few events that I need to be here for at five in the morning. I'll take the first train in, like 4:15, and it's me and a bunch of construction workers. When we have a half-day I'll take the 2 pm train home and see them again, riding back with me.
---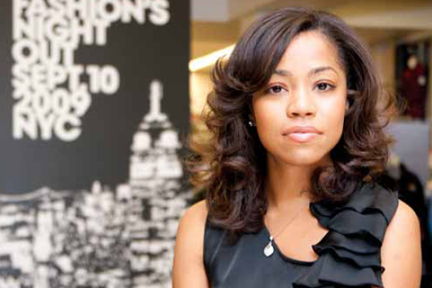 CHRISTINA FULTON
FASHION MERCHANDISING MANAGEMENT '05
Manager of mid-Atlantic special events (DC, DE, MD, PA, VA), Macy's, Inc.  
CAREER PATH: I started here in the buying office then moved over to the fashion office, as an assistant focusing on marketing and trend forecasting. I went to Fashion Week— front row, because we're such a large retailer. Last year, my current position became available. Macy's is big on recruiting from within.
GROWING UP, I WANTED TO BE… I knew I wanted to be in fashion. FIT was my dream.
DAILY ROUTINE: That's not me. I travel a lot. I divide my time between the New York and DC offices and my region's stores.
PERKS: I'm very social, and Macy's emphasizes community outreach, so this job lets me work with local organizations and meet different people. We're doing something this year with the Congressional Black Caucus [an organization of African-American U.S. Congress members]. The Corcoran Gallery of Art in DC is another great partner. Earlier this year, we volunteered at a Redskins "welcome home" luncheon and met the players.
---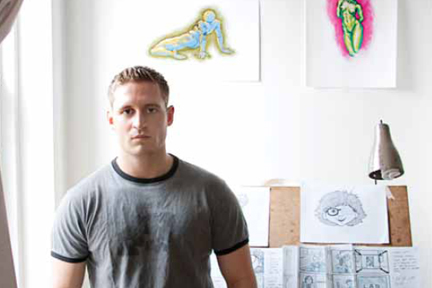 JEFF KARL
ILLUSTRATION '08
Freelance illustrator, jeffreylkarl.com;
volunteer, Art Start  
GREATEST PROFESSIONAL ACHIEVEMENT SO FAR: Last spring I did character design and storyboarding for an animated short that's in production right now. The director's going to submit it to festivals and pitch it to studios as a children's TV series.
FAVORITE TOOL: The drafting table that I designed and made. It's portable and doubles as a case, so I can put my drawings and supplies in it.
GREATEST PERSONAL ACHIEVEMENT SO FAR: I've been volunteering. Last year I did Big Brothers Big Sisters. This year I've been teaching art to underprivileged kids for a few hours each week. I just had them making paper lunch bags into monster puppets.
IN TEN YEARS, I'LL BE… If I knew that, life wouldn't be so intimidating right now. I'm not going to leave illustration. If I could make more of a career out of helping kids, I would. I think ten years from now I'll be in a place I couldn't have possibly planned for.