The Gold Standard
Reem Acra, Fashion Design '86, is having her moment
by ALEX JOSEPH
Portrait by ALESSANDRA PETLIN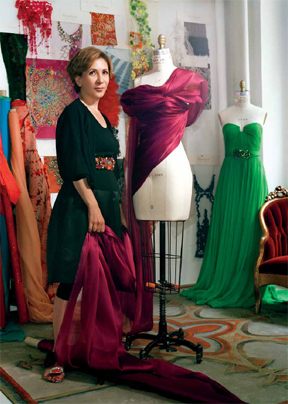 REEM ACRA stood in the middle of her Garment District studio while a noted photographer prepared to take her portrait. The photographer and an assistant bustled about, arranging furniture in the stark white space. Acra, best known for putting glamorous gowns on celebrities, including Angelina Jolie, Katherine Heigl, and Jane Fonda, gave her own outfit a once-over. She sighed. Something was not right.
She indicated some minute wrinkles on the skirt—a signature black silk number—and, without a pause, whipped it off and handed it to an assistant for steaming. Her Capri-length black leggings were exposed. Acra turned and caught the startled gaze of a journalist, shrugged, and laughed.
"You do what you have to do," she said.
This unguarded moment was perhaps something of a red herring. Acra may be bracingly self-confident, but she is also a designer who keeps secrets—her own, and her clients'. Celebrities trust this petite, polite woman because, as she put it, "I'm not loud. I'm the one they go to when someone is pregnant and??" She made a gesture to indicate scandals kept at bay. Acra creates dresses that feature resplendent, jewel-encrusted embroidery. She employs creamy satin and satin-faced organza, slinky chiffons, and a dreamy palette that often glimmers with gold. These are not looks for mousy, modest women. Acra, a Lebanon native, claims Queen Noor of Jordan as one of her clients. "Every royal in the Middle East comes to me," she said. In person, Acra is reserved, though friendly.
The photography session took place on a balmy day in August. In the world outside, the fashion industry was struggling with the reality of the recession. Consumer spending, particularly in the luxury and designer markets, was down drastically. But here, in the minimalist environment where Acra sketches and dreams up her eveningwear, ready-to-wear, bridal collection, and jewelry lines, calm prevailed.
The designer, who launched her business in 1997, is having her moment. Her bridal gowns, sold at Kleinfeld and exclusive boutiques, have been roundly praised for their fine detailing and chic takes on classic looks. Jill Biden rocked a red Acra number at the Inaugural Ball in January, and characters on recent episodes of Ugly Betty and Gossip Girl dropped Acra's name. In February, citing the number of her gowns appearing on the red carpet during the awards season, Style.com wrote, "The bridal-turned-eveningwear specialist's career seems to be at a tipping point." In September, a glowing profile in the Huffington Post called her dresses "lavish and glamorous without being over the top." Harvey Nichols Dubai, one of Dubai's premier department stores, has carried Acra's collection for several years. "We see the brand as a representative for luxurious fashion," said Eda Kuloglu, the store's general merchandise manager. "Reem Acra is recognized and sought after by our most prestigious customers. We believe in the brand's potential, especially in this market."
So what's her advice for designers in a down economy?
She smiled. "Make sure you know what you are doing."
She offered a few specific hints. In any collection, she always makes sure to include items that are versatile and more affordable—that black silk skirt, for example, or the simple blouse with an elegant garden print from her spring 2010 collection. In recent seasons, she has scaled back on embellishment. The designer's mainstay, however, is ready-to-wear at $1,500-2,000 per outfit and $5,000 gowns, sold at the most exclusive stores in the world—Bergdorf Goodman, Neiman Marcus, Saks Fifth Avenue, Harvey Nichols in the Middle East, and her eponymous boutique on Madison Avenue in New York. Couture styles crafted for individual customers are even more expensive.
But then, not every designer has a sixth sense: "When I meet someone, I can sketch in one minute what they should wear," Acra said.
How does that work?
"I can't say it came to me easy, but I'm strong at visualizing. I'm intuitive. I pick up on the vibes of people."
Not long ago, an associate called to recommend a new client. A friend's daughter was getting married and needed a dress. But there was a catch, the acquaintance said: The girl was difficult. Acra pooh-poohed. No, the acquaintance insisted, you don't understand; she's really, really difficult. Acra asked for a photograph. A month later, the young woman's parents brought her to meet the designer. Acra recalled the moment: "They brought her in and I said to the girl, in a split second, right in front of her parents, 'You would like to be naked at your wedding, wouldn't you?' And she was ecstatic. So I sketched a dress that was totally see-through, with pearls and crystals. It looked amazing." One customer called this intuitive ability "magical": "Reem can look at you and instantly figure out the right style that will make you absolutely radiant. What more can you ask from a designer?"
Acra can judge someone's size on the basis of a photograph. The skill came in handy on a recent Vanity Fair photo shoot with Annie Leibovitz. A number of celebrities were involved, all to be dressed by Acra. When Leibovitz arrived on the set, she was dismayed to discover that fittings had not been done in advance. The designer remained calm. "As each one arrived, I just zipped them into the gowns," she said.
Acra's ready-to-wear channels European elegance into streamlined American styles. The one thing she won't make is jeans; she doesn't even own a pair. "Not that I'm against jeans," she said. "You have to know what looks good for you, and what doesn't." A hint of the Middle East is evident in her draping and detailing, and perhaps even the gold that is her signature. "Gold is in everything I do. It always has to be there," she said. Acra considers the color an invigorating challenge. "Gold is very tricky. If you do it well, you're refined, but it can be quite tacky in a split second."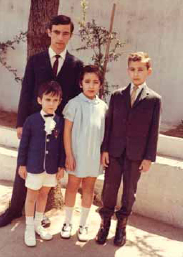 Growing up in Beirut, the designer was close to her mother, who made clothes for the family and remains a touchstone. Acra created her first dress for herself at age 8. (Today, it hangs on the back of her office door.) Years later, at the American University of Beirut, a fashion editor noticed a dress Acra had made out of an ornate table cloth, and offered to sponsor a fashion show, the designer's first. Soon afterward, she applied to FIT.
Professor Lucia M. Sica taught Acra's first draping class. "She yelled at me because I finished the assignment in a few hours instead of a few days," Acra said. Though her English needed improvement, her classmates soon began to refer to her as "the genius." Her industry critic, the iconic designer Pauline Trigère, was also impressed with her technical ability. "She kept chasing me, saying 'How did you do your buckles?'" She graduated magna cum laude and won the Fashion Design Department's award for her year. Acra said her professors selected her and three other students for an exclusive exchange program with ESMOD (École Supérieure des Arts et Techniques de la Mode) in Paris. After a period designing luxury domestic interiors, a pursuit Acra said is not so different from fashion—"Color is color whether it's on a body or in a room"—she opened her bridal business out of her Manhattan apartment. She said the bridal concern was never her final aim, but only a first step in establishing a complete design house. She launched her eveningwear in 2003, ready-to-wear in 2008, and jewelry this year.
Acra paused. Lou Lou, her Maltese, blinked up at her. The little white dog wore another Acra creation—a purple silk ombre dress, with feathers. Acra said, "What did you do? I know you did something. You look guilty." Lou Lou widened her eyes and looked blameless.
More than a mascot, Lou Lou, who sometimes tours the runway tucked under Acra's arm, represents the designer's whimsical side. Acra travels widely—a recent itinerary included Beirut, Paris, Dubai, LA, and Japan—and she adores tchotchkes. Recent finds include ornate Chinese boxes, glass water jugs covered with decoupage, and wine-bottle holders shaped like clowns—"I use them to hold my hairbrushes. I get a kick out of that." She also collects costume from the 1920s, and takes ballroom dancing lessons. So it's not all ambition. Asked if she would ever do menswear, Acra hesitated. "I don't like suits. And I'd bead the ties," she said.
Acra is popular with celebrities on the red carpet.

 
 
 

Angelina Jolie

Halle Berry

Katherine Heigl