Gold Standard
Professor A.V. Sloan, Jr., Talks About 50 Years of Teaching at FIT
September 2008, FIT's 64th year, marked a half-century of teaching at the college for Dr. Alfred V. Sloan, Jr., professor of Fashion Merchandising Management and the longest-serving full-time faculty member in the institution's history. During his tenure, Sloan has seen transformative growth at the college and in his program, which he joined in its early years, when it was called Fashion Buying and Merchandising. It is now FIT's largest department, enrolling 28 percent of the college's degree students.
Newton Godnick, FBM chair for 18 years until his 1992 retirement, credits Sloan as author of much of the department's founding curriculum and a consummate teacher whose guidance goes beyond the discipline. In 1968, Sloan founded the London Scholars program, FIT's first study abroad offering; shortly thereafter, he started an FBM faculty exchange program between FIT and the University of Huddersfield in Yorkshire, England. "Students aside, he's been a counselor to countless fellow faculty," Godnick says, "and I know for a fact he was considered umpteen times for senior administrative positions at SUNY. Every time, he chose to stay in the classroom."
"A soldier's place is in the trenches," replies Sloan, a fourth-generation Manhattanite who served in the U.S. Army in World War II. This winter, the veteran professor shared some memories of his life and career—and of an ever-evolving FIT, as seen from the front lines.
"I travel a lot," he says, "and I used to have to explain what I did. Now I don't have to say anything except, 'I teach at FIT.'"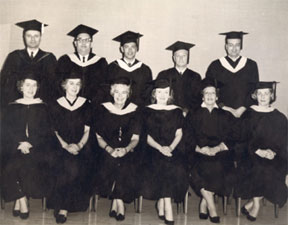 DURING WORLD WAR II, I served in England with the Army's decorated 445th Bombardment Group. I lost many good friends. I was a staff sergeant. Jimmy Stewart, the actor, was our squadron commander. He was a Princeton man, and I'd gone to Rutgers, so he razzed me about that. Two good things I remember about Stewart: He refused promotion until all of his lead pilots were promoted to first lieutenant, and even though he was allowed to choose his missions, he didn't just pick the easy ones. He'd take every sixth or seventh mission that came up, whether it was dangerous or just some Mickey Mouse thing. The papers kept up with what Stewart was doing, so my parents could keep track of where I was.
I STARTED AT FIT on Sept. 10, 1958. I was the second person hired to teach Fashion Buying and Merchandising, now FMM. The chairperson, Jeannette Jarnow, had started the program two years earlier, picking off 18 or 19 design students, kind of taking them aside and saying, "Hey, want to learn how to make some real money?"
Dr. Lawrence Bethel, then president of the college, had invited me to the Yale Club to interview for the position. We sat down, and a waiter came up and asked if I would like a drink. I figured, "Better play it safe," and ordered a ginger ale. Dr. Bethel ordered a shot of bourbon. By the time we were done, he'd had two or three more, and the salary for the job was a couple of hundred dollars more than it was when the interview started!
IN MY FIRST YEAR at the college, FIT was on the top floor of the High School of Needle Trades. Our enrollment was maybe 450. I remember riding the elevator one day with Lawrence Jarvie, who at that time was SUNY vice chancellor for two-year colleges, but later became president of FIT. He made mention of the college's imminent move to a big building all its own, now known as the Marvin Feldman Center. He said, "I hope you'll be able to fill it!" Boy, did we ever.
TODAY THERE ARE something like 200 colleges in the U.S. teaching fashion merchandising, but I believe we were the first. It was like creating a discipline. A number of years ago, I took my family on vacation to Montana, and the housekeeper at the inn was studying fashion merchandising at her community college. So I asked to see her course catalogue. The college had copied FIT's curriculum—word for word, comma for comma. Even the course numbers were the same! It was unbelievable.
IN THE LATE '60s, FIT had a baseball team. My son and I are big baseball fans, so we'd go to all the games. One year, a game against the Bronx campus of Hunter College [now Lehman] was scheduled over the Easter break. Only eight FIT guys showed up, and you need nine to play. So I volunteered, even though I was in my middle 40s. We lost. I wasn't anything great, but I didn't discredit myself. I figure I must hold the record for the oldest ever outfielder in a college baseball game.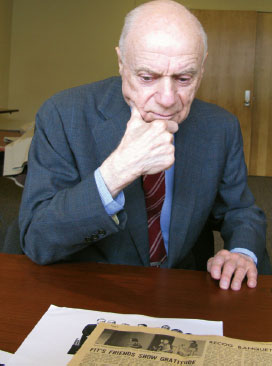 HOW HAVE THE students changed? Not a lot—they're bright, respectful, middle-class kids with strong values. Today's students are maybe weaker on the mechanics, but much stronger on social awareness. And the student body is much more diverse. In one class last year, I had 25 students from 11 different states, two Canadian provinces, and three foreign countries. At what other college do you get kids like this?
I teach Merchandise Planning and Control—which never changes; it's like teaching Shakespeare—and Consumer Motivation in Fashion, which changes from minute to minute. I love teaching it to our foreign students, because you're not just teaching them the course, you're teaching them the American way of life.
Once, I had a Thai student who wrote such beautiful English, I thought she must've been raised with it at home. She told me her mother knew only two English words: Calvin Klein.
IT HELPS TO HAVE a historical perspective on current events. I try to pass that on to my students. I discussed the blitzes in London when I was teaching a couple of days after September 11. A number of students are now asking about the recession, for I am an alumnus of the Great Depression. I tell them that there is no comparing the two. Trust me.