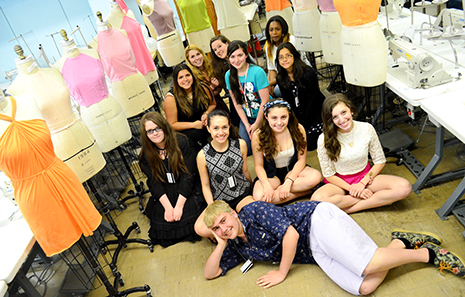 The Fashion Institute of Technology's Precollege Programs, a division of the School of Continuing and Professional Studies, offers classes for high school and middle school students to explore art and design, business and technology majors and develop art and design portfolios.
To fulfill its mission, Precollege Programs offers a wide variety of credit and non-credit courses to high school and middle school students, including courses taught by FIT faculty; and partnership programs with high schools in the New York City area.
Top 5 Reasons PARENTS Should Consider Precollege Programs
Top 5 Reasons STUDENTS Should Consider Precollege Programs
Precollege Programs offers the programs for high school students and middle school students.
Contact

precollegeprograms@fitnyc.edu
Pomerantz Center, Room D130
Phone 212 217.4630
Fax 212 217.7964
Office Hours
| | | |
| --- | --- | --- |
| June-September | 9am-5pm | Monday-Friday |
| October-December | 9am-5pm | Tuesday-Saturday |
| January-February | 9am-5pm | Monday-Friday |
| March-May | 9am-5pm | Tuesday-Saturday |