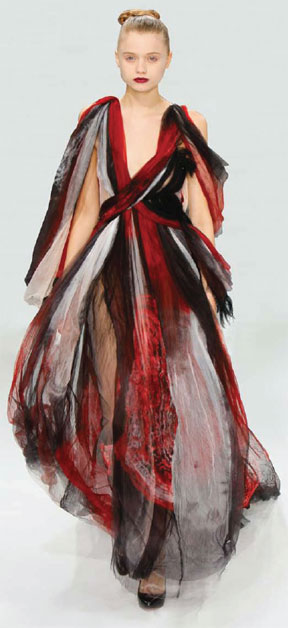 Object:
Hand-dyed silk tulle evening dress with sequin appliqué and mohair
Date:
2008
Origin:
USA
Acquisition:
Purchased by the museum in 2008
This dramatic evening dress was created by Rodarte designers Kate and Laura Mulleavy for a collection they say was inspired by an "obsession with Japanese horror as seen through Kabuki theater and modern Japanese horror films." The hand-dyed fabric intentionally evokes blood in water, capturing the essence of rich color as it mixes with clear liquid. This mottled effect resembles Shibori, the ancient art of Japanese tie-dye. The fabric is draped and layered to create a flowing silhouette that gracefully echoes the idea of gently swirling movement. The themes of beauty and horror are further connected through deconstructed elements such as a bodice that recalls a diagonally wrapped bandage and uneven, frayed tulle panels that float softly around the shoulders. Slashes of black add a graphic edge to this diaphanous gown. The Mulleavy sisters' burgeoning career began in 2005. Though they are untrained as fashion designers and work in California, their outsider status has only enhanced their place in the fashion world. To achieve their otherworldly vision, the sisters rely on the very earthbound art and craft of dressmaking, employing couture-worthy techniques to create their fantastical clothing. The subtle addition of mohair and sequins to this tulle confection adds texture and demonstrates their focused attention to detail. This dress is featured in the Strange Beauty section of Gothic: Dark Glamour, which credits the Mulleavys' "strange sources of imagery" for their inclusion in this exhibition that explores "the dark side" of fashion.