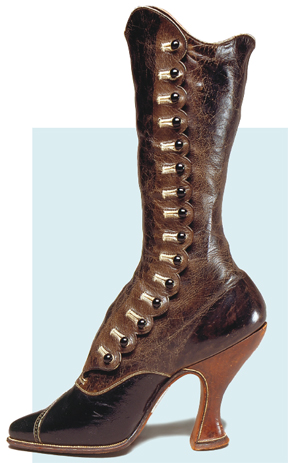 Object:
Black and gray leather high button boots
Designer:
Jack Jacobus
Date:
c. 1898
Country of origin:
Austria
Source:
Gift from the Victoria and Albert Museum
Designed by Jack Jacobus in Austria, these boots are elegantly crafted in fine leather with exquisite stitching, and would have been worn by a wealthy woman. The three-inch heel and dramatic, close-fitting curve of the calf and ankle suggest that she would have been young and extremely fashionable. These boots represent a turning point in fashion, when the restrictive dress of the Victorian period gave way to the more relaxed styles of the early 20th century. As women began to lead more public lives, respectable ladies welcomed the opportunity to dress up and window shop along the boulevards. This "fashionable promenade" helped popularize the high button boot, which could be glimpsed beneath a modest long skirt as the wearer stepped from a carriage or crossed a street. The high button boot, now seen as quaint and emblematic of Victorian dress, was actually quite seductive and daring. Its graceful curves echo the sinuous lines of Art Nouveau, and emphasize the shape of the leg. In the boot shown here, the sensual aspect is further enhanced by its scarlet silk satin lining, which would be known only to the wearer.